10

min. read
PMP® is Project Management Professional– credential offered by the Project Management Institute, USA. Since you want to know about the PMI PMP Question Bank, I am assuming you are already in the process of preparing for your PMP Certification Exam. If you have not yet taken the training, you can read the article to learn more about PMP Exam and PMP Question Bank. Let us explore the types of PMI PMP Questions Banks available. We will also see how to pick the most suitable one for you and how it helps you to pass the exam.

Tip: Downloadable PMP question bank and PMP certification dump pdf are ahead. Do not skip this post!
---
After helping over 500,000 professionals in more than 180 countries with a 99.6% first attempt pass rate, we have prepared a seven-step PMP study plan. Read this PMP study plan and create your own PMP prep plan accordingly.
---
Do you want to hear what our students say about our PMP courses? You can watch this video!
PMI PMP
 Question Bank: What is it?
The Project Management certification exam has a total of 200 questions which you have to answer in under 4 hours. From this link, you can get more information on the PMP exam pattern. A PMP certification questions answers pdf will provide you questions to practice and test your understanding of the concepts. A typical PMI PMP Question Bank would contain questions with four answer options.
---
Attend our 100% Online & Self-Paced One-Hour Free PMP Training.


---
These questions in the PMP Question Bank would be in line with the PMP certification exam.
Watch our "Should I Use PMP® Question Bank during my PMP® Study?" video
The options available for you for PMP Question Bank are:
PMI PMP Question Banks in form of downloadable PMP questions PDFs with answers at the end of the document

ebooks or PMP preparation books free download

Online exams or PMP exam questions pdf. Some are paid while others are free. You can check free PMP questions and the PMP sample exam.

PMP Questions Bank can also be offered by the 35 contact hour training provider for PMP certification

Exam simulators

Mobile apps
Watch our PMP Exam Questions & Answers Video
How to choose a PMI PP Question Bank?
When choosing a PMI PMP Question Bank, look for these:
The PMP certification sample questions pdf provided in the PMP Question Bank, their complexity, and the explanation

Accuracy and relevance of the questions in the PMI PMP Question Bank. Watch out for questions that are in the earlier versions of PMBoK

®

or before the pattern has changed. These can be real downers.

Are these mock exams or practice tests? What's the difference? Mock exams are very much similar to the actual PMP exam and are generally timed for the full 200 questions. You are allowed to take it only once. PMP practice exam: you may take it multiple times.

Explanation of the correct answer is very important. This is what helps you to understand the approach to answering each question in the question bank.
Enroll in our PMP Exam Simulator to access over 1,600 PMP questions and answers. You can see the demo of the PMP exam simulator here: Free PMP Exam Simulator.

Flexibility to choose the number of questions in the PMP Question Bank. Some PMP question banks allow you to pick 50/100/150/200 questions from the total set of questions.

Is the PMP question bank chapter-wise? Questions specific to a Knowledge Area- If let's say you just finished studying Scope Management, you may want to check your knowledge on this or readiness for the exam on the Scope Knowledge Area.

The number of tests and, the duration of access to the tests, if it is online. How many days you are allowed to use it?

In the PMP Certification exam, there are also questions with a little 'Math'. These are easy to crack if you know the formula and have practiced well. At least, after you solve the question, you know if you have the correct answer from the available options.

When should I start on the PMI PMP Question Bank?
First, complete your 35 contact hour PMP training – the prerequisite for formal project management education. You may be tested during the course with a few sample questions. This is to know whether you are following the course content. After you finish the course, using your PMP study plan, start your preparation. When you finish reading a knowledge area in  PMBoK, You may want to assess yourself. This is where the PMP Question Bank by Knowledge Area comes in handy. If you have finished one round of study of the PMBoK Guide or the study material provided by the training provider, you may give it a shot on practice test questions. This typically should have the questions from the five process groups as per the PMP exam pattern. You may want to have a quick test wherein you can go for a 50/100 question option.
How should I use the PMP Question Bank?

The important aspect of cracking PMP certification depends on how well you have practiced the questions in the PMP Question Bank. So, how should I use a PMI PMP Question Bank? After the 35 contact hour training, test yourself by Knowledge Area. Then, analyze your results. Review why the option is correct and how to arrive at the option. If you got it wrong, understand the reason: is it because you were in a hurry to pick the answer, you did not understand the concept, or you did not remember it. Now, go back and revise the specific process or topic. Even if it is correct, make sure you are clear on why you chose the option. Because you cannot afford to take pot shots in the exam.  Especially important is to get yourself into the exam mindset by taking a full-length exam for 4 hours in one go when you are closer to your exam date.  Keep track of your scores in each exam and apply Kaizen (continuous improvement) to raise the bar on the target score you want to achieve. You need to get at least more than 75% in the full-length tests to ensure you are going to pass the PMP exam in the first sitting.
Advantages of a PMI PMP Question Bank
It is good to practice answering as many tests as you can. You can also take the same test multiple times to see if you have overcome the mistake you did the previous time. Here are the reasons why you should use a PMP Question Bank:
It helps you to read the questions faster and get the gist of the question. Reading and understanding questions are also very important for the exam.

The PMP Question Bank is useful to understand the approach to answering a question. Since there are hardly any straight questions, 'how to' answer is important

It gives you confidence and boosts your morale

The PMP Question Bank enables you to follow continuous improvement (Plan-Do-Check-Act) to reach your goal of PMP.

It will assess if you are able to solve the math questions correctly and quickly

The PMI PMP Question Bank gives you a direction in fortifying your preparation

With the help of the PMP Question Bank, you can plan your strategy for the exam- know your strengths and weaknesses

The PMP Question Bank can be a yardstick in deciding the date for the exam

It will ease you to get ready for the final 4-hour exam
---
Watch Alan's "New" PMP® Exam Journey Interview
---
Therefore, the PMI PMP Question bank is a handy tool that helps you prepare more objectively. It also gives you direction on areas to improve and assesses your exam readiness. Whether you go for an online test, simulator, or ebook, make sure they are updated to match the latest version of PMBoK.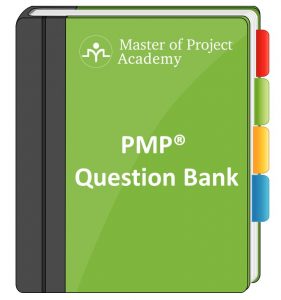 Download Master of Project Academy PMI PMP Question Bank here.
Download Master of Project Academy PMP Quick Reference Guide
PMP Certification Exam Dumps
Let's start with the dictionary meaning of "dump". A dump is a place where people are allowed to leave their rubbish. It is used as a rubbish dump or garbage dump in common language. If you just look at the dictionary meaning of dump, it might mean that PMP certification exam dumps will not be useful since it is something left for garbage. However, unlike the dictionary meaning, PMP certification dumps are where you can find useful and several materials for PMP preparation. PMP certification exam dumps should include PMP study materials, many PMP practice questions, PMP flashcards, PMP cheat sheets, and many other useful resources as well. There are downloadable PMP certification dumps PDF that you can find online.
Our comprehensive PMP training includes 35 contact hours of PMP training, several PMP practice questions, cheat sheets, and many other useful resources as well. Here, we will be sharing Free PMP Certification Dumps which you can download and use. However, keep in mind that these are only a small part of our comprehensive PMP training materials.
What is included in our 35 contact hours of self-paced PMP Training?

PMP Dump #1 – PMP Question Bank
For sure, the first PMP certification dump should be a PMP question bank. Because the majority of a PMP dump should be PMP practice questions. We have provided links for our PMP question bank above.
You can download it from here as well.
PMP Dump #2 – PMP Flash Cards
Flashcards have been used in learning a new language, especially when learning new vocabulary. Since it is a very useful method to learn new things, PMP flashcards are also used to memorize your PMP study until your PMP exam. Because PMP preparation is a long journey and having PMP flashcards in your PMP dumps will help you memorize the sections you have studied weeks or months ago.
You can reach PMP Flash Cards PDF.
PMP Dump #3 – PMP Cheat Sheet
PMP exam content has frequently occurring concepts such as organizational process assets, environmental enterprise factors, etc. Besides, there are several PMP math formulas you should know to answer the PMP math questions correctly. PMP dumps should include a PMP cheat sheet including the frequently occurring concepts in the PMP exam and PMP math formulas in one place.
You can reach PMP Cheat Sheet PDF.
PMP Dump #4 – PMP Prep Book
Some PMP aspirants consider studying for the PMP exam through a PMP book as an old way of passing the PMP exam while some PMP aspirants still want to touch a PMP book as a bible during their PMP study. It is totally up to the PMP certification aspirant.
Many PMP aspirants think that PMBOK PDF is very theoretical and not easy to read. But, this does not change the fact that PMBOK is the bible of the PMP exam content and all of the other PMP training materials are prepared based on the content around the PMBOK.
Either way, even if you will use it or not, a PMP exam prep book must be part of a PMP dump.
You can reach a free part of the PMP prep book here.
Enroll in our FREE PMP training to learn more about PMP Certification



Author Biography:


Sunanda Gundavajhala, B.Tech, M.B.A, PMP has over 25 years of project management. She is a consultant, and trainer on project management for different sectors and is the recipient of the "Recognition of Excellence" award from PMI, USA, and the Woman Volunteer award from Hyderabad, India Chapter of PMI. She has contributed to the "Practice Standard on Scheduling, PMI". She has worked as the Liaison officer for PMIEF (Education Foundation) for the Hyderabad, India Chapter of PMI.
PMP Question Bank and PMP Dumps
Review by: Sebastian Nelson
5 / 5 stars