Which is that one key resource that you can rely on for PMP certification? Definitely, PMBOK pdf is the most important resource for your PMP exam prep. If you are on the PMP journey, PMBOK PDF is a must have. Why and what is there in PMBOK pdf? We are going to explore PMBOK pdf in this article.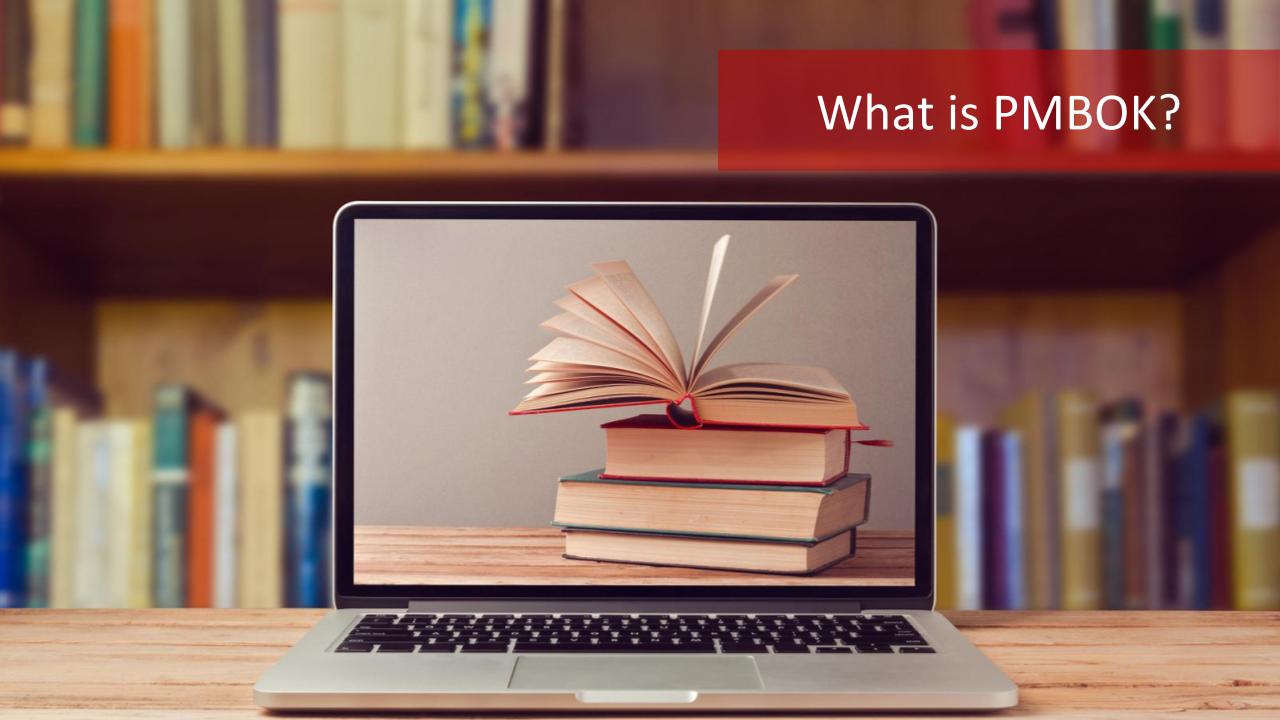 What is PMBOK pdf?
PMBOK pdf stands for Project Management Body of Knowledge which is produced by the world-renowned institute, Project Management Institute (PMI). PMBOK pdf contains the project management framework. It has been encapsulated with the combined knowledge of a huge number of practicing project management professionals who are members of PMI.
How is PMBOK available?
PMI institute is the globally present and recognized not-for profit institute for project management. PMI advocates project management best practices and offers various foundational and practice standards pertaining to project management. PMBOK pdf is the foundational Gold standard in project management.
Can I get PMBOK PDF as PMP Training Material?
This is actually one of the most frequenyly asked questions we receive from students. PMBOK PDF is sole proprietary of PMI and no other organization can provide it as a training material. However, during your PMP application, if you choose to be a PMI member as well, while the total cost for PMP examination will not change, you will have access to PMI library for one year, including PMBOK PDF. Therefore, we strongly recommend you to apply for the option including the one-year PMI membership.
You can see further details in our PMP certification cost article.
How can I get a copy of PMBOK pdf?
If you are a PMI member, you can get a personalized copy of the PMBOK pdf. You may login to pmi.org and under mypmi, you can find the link to download PMBOK pdf. While, if you are a non-member, you can purchase your copy of paperback edition of PMBOK pdf from PMI. Again, if you are a member, you can buy the paperback edition at $49.50 and if you have not taken membership, you can get it at $65.50.
Why to be a PMI member and how?
Why are you interested in PMBOK pdf? One, you want to go for PMP or CAPM certification, the other could be you are keen on understanding the best way of executing projects. Either way, if you take membership, you can get discount for your PMP or CAPM certification exam too.
Even if you are only interested in gaining knowledge on project management, the membership gives you access to a host of resources on PMI website ranging from whitepapers to webinars, guides, virtual events, etc.
You can login to PMI website and pay the membership fee of $139 to become a member.
PMBOK Pdf: What does it contain?
PMBOK is a guide to project management body of knowledge. Did you know PMBOK pdf is updated periodically by the volunteer community comprising of project management professionals from world over. This means you are getting access to the world class, global best practices.

Knowledge areas in PMBOK
PMBOK pdf is organized as knowledge areas with processes in each knowledge area. A knowledge area deals with a particular aspect of project management. There are ten knowledge areas in the PMBOK.
You have Integration, Scope, Time, Cost, Quality, Human Resources, Communications, Risk, Procurement, and Stakeholder knowledge areas. For example, Cost management covers the processes that are need to define way the cost management is to be done, estimating the various costs in a project and creating a budget which needs to be controlled during project implementation.
Processes in PMBOK
You cannot swallow the whole project management body of knowledge in one go. Therfore, PMBOK pdf is divided into knowledge areas to understand in depth a particular area such as cost or quality. You have in all 47 processes across the ten knowledge areas.
Each process has certain inputs which are processed using various tools and techniques to get the desired outputs. There is an interlinking between the processes of the knowledge area and also other knowledge areas as is seen in projects.
Introductory concepts in PMBOK
PMBOK also discussed the basic of project management, importance of organizational structures and the five process groups. Initiating, Planning, Executing, Monitoring & Controlling and Closing are the five process groups. The processes are spread across these five process groups and ten knowledge areas in PMBOK pdf.

Why do you need PMBOK?
If you are a project manager and want to know how to plan and manage projects to ensure better success, you need to understand the framework of the PMBOK pdf. Moreover, you will also know the language of project management as spoken globally by project managers. You will be able to appreciate the importance of the various nuances that need to be addressed for better management of projects.
PMBOK pdf for PMP certification
Are you preparing for PMP or CAPM certification? Then you must read this! Have you completed your PMP exam requirements which also includes 35 hours of PMP Training? Did you say yes? Then, your course may have already covered the concepts from PMBOK pdf.
Even if you have a PMP study guide given by your provider, understanding and internalizing the PMBOK  concepts is the key to your becoming a PMP.
Glossary in PMBOK
PMBOK  has a glossary at the end which is a very useful resource for PMP certification. You can understand the various terms used by the global project management community by referring to this section. Moreover, some of the PMP Certification Exam questions are based on the definition of the key terms in PMBOK pdf. Even though you have a PMP Question Bank, going through the Glossary is a starting point. Also, it serves as a bite-sized knowledge or a PM nugget.
DFD in PMBOK
If you want to visually know how the outputs from one become an input to another process and the linkage between the different processes, go through the Data Flow Diagrams (DFD) in PMBOK.
Are you thinking that you can stop referring to the PMBOK pdf once you are certified? If yes, you are mistaken! You start referring to it more often during your project management. Moreover, an edition change happens because of some improvement. Therefore, it pays to keep yourself updated by going through the updated edition.
PMBOK for PMP Renewal
You may attend an upgrade workshop on PMBOK new edition to know the changes and also get the needed Professional Development Units (PDU). As you are aware PMI stipulates that you need to earn 60 PDUs every three-year cycle to renew your PMP certification.
What Are the Benefits of PMBOK?
Some of the benefits of PMBOK pdf are:
Handy resource on project management
Foundation for having the right knowledge to answer PMP and CAPM exam questions
Helps you stay current on project management practices
Hence, PMBOK pdf is a bible that you need to have by your side as a project manager to ensure you keep yourself current.


Author Biography:

Sunanda Gundavajhala, B.Tech, M.B.A, PMP has over 25 years of project management. She is a consultant, trainer on project management for different sectors and is the recipient of "Recognition of Excellence" award from PMI, USA and Woman Volunteer award from Hyderabad, India Chapter of PMI. Sunanda has contributed to the "Practice Standard on Scheduling, PMI" while she has also worked as the Liaison oOfficerfor PMIEF (Education Foundation) for the Hyderabad, India Chapter of PMI.