5

min. read
If you are studying for the PMP certification exam, you will see that several resources are available for the PMP exam study. PMP training materials, PMP exam questions, PMP formula sheet, etc. PMP flashcards are also a very important resource for PMP study and passing the Project Management Professional PMP exam.
---
Tip: Downloadable flash cards pdf and Online FREE Flash Cards App Demo (20 Cards) are ahead. Do not skip this post!
---
Flash cards are very useful especially when you are trying to memorize what you already studied. PMP preparation is a long journey. If you are a full-time working professional, the average time to complete your PMP certification exam preparation will be around five to six months. You can see all the details of how you should create your PMP study plan from our seven-step PMP study plan post.
---
After helping over 200,000 professionals in more than 180 countries with a 99.6% first attempt pass rate, we have prepared a seven-step PMP study plan. Read this PMP study plan and create your own PMP exam prep plan accordingly.
---
During your PMP study, you will learn lots of topics, new concepts, formulas, etc. When you are learning new topics, you will need to memorize what you have learned previously. You can take notes during your PMP study, use cheat sheets and of course, one of the ways of memorizing topics is using flashcards for the PMP certification exam.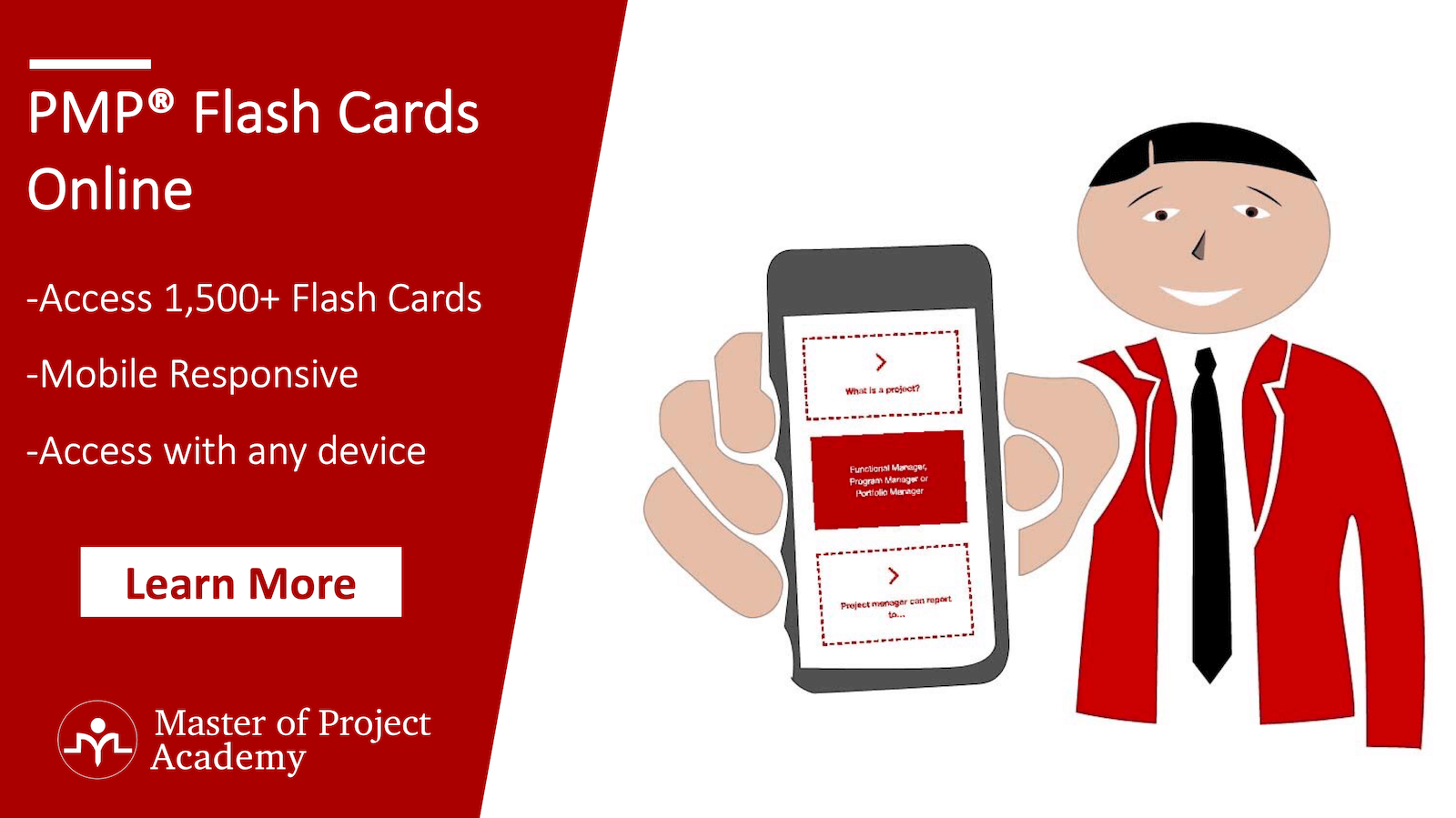 We have explored what the PMP flash cards are and how you can use them in our post. Read on to learn more.
PMP Exam Flash Cards
They are generally two-sided cards. On one side of the card, you will see a topic, question, term, formula, etc. from PMP exam content. On the other side of the flash card, you will see the answer or explanation of the first side.
---
Attend our 100% Online & Self-Paced One-Hour Free PMP Training.


---
There will be several PMP exam flashcards on your basket and you will pick up flashcards one by one and try to answer or memorize each card's other side.
Let's see a sample flash card now.
Sample PMP Flash Card – Front Face

As you see, this sample flashcard asks a question. "What are the process groups of project management". The next step should be trying to answer this question.
Sample Flash Card – Back Face

Once you answered the question or memorized the concept on the front face of the flash card, you can turn to the back side of the card and see the answer. As you know, there are five project management process groups and these are initiating, planning, executing, monitoring & controlling, and closing.
The number of PMP exam flashcards varies depending mainly on two factors. These are providers of the cards and the size of the knowledge area. For instance, if the cost management knowledge area content size is more than the size of the stakeholder management knowledge area in the PMBOK guide, typically, we expect to see more PMP exam flashcards for the cost management knowledge area.
5 Sample Flash Cards
We have prepared five sample flash Cards here. You will see that when you hover on the card, the card flips and you see the answer to the question on the front face. You should expect similar flash cards from a PMP Flash Card Online solution.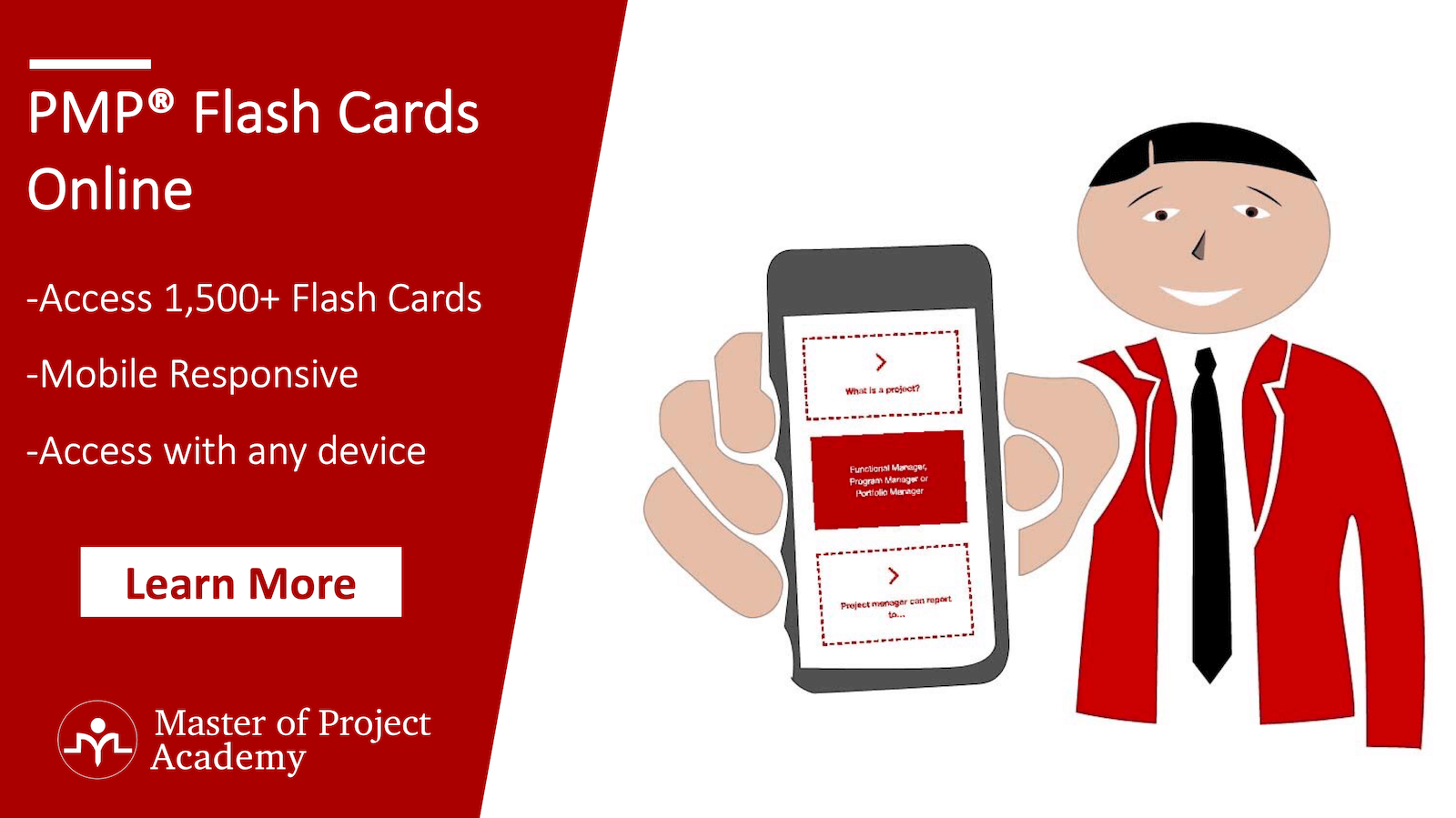 Flash Cards Online
In the past, flashcards were mainly sold in a box and delivered as a physical product to your home. However, with the evolution of online applications and tools, there are new ways to reach PMP flashcards online.
We have prepared a Free PMP Flash Card Online page as well. There are 20 PMP Sample Flash Cards on the page and you can assess your knowledge for free. To reach Free PMP Flash Card Online page, click here.

There are some PMP exam card app options available on Google Play and App Store. However, be careful with the flash card app you are planning to install. Because some of the apps might not be up-to-date or provide inaccurate information about the PMP exam content.
Another method for reaching sample flash cards online is downloading or purchasing a Flash Cards PDF.
The PDF Form
PMP Flash Cards PDF is no different than a PDF file you should have seen before. The difference between the pdf from other PMP exam flashcards options is you have to print the pdf file and cut the papers to turn them into flashcards format. Although it seems that you will do manual steps to prepare your PMP exam flashcards, if you consider that you will be able to reach the PDF right away, this way is more convenient than ordering PMP exam flashcards in a box. However, the easiest and most convenient way is purchasing a Flash Card Online App like ours.
You can see a sample page from our PMP flash cards PDF file.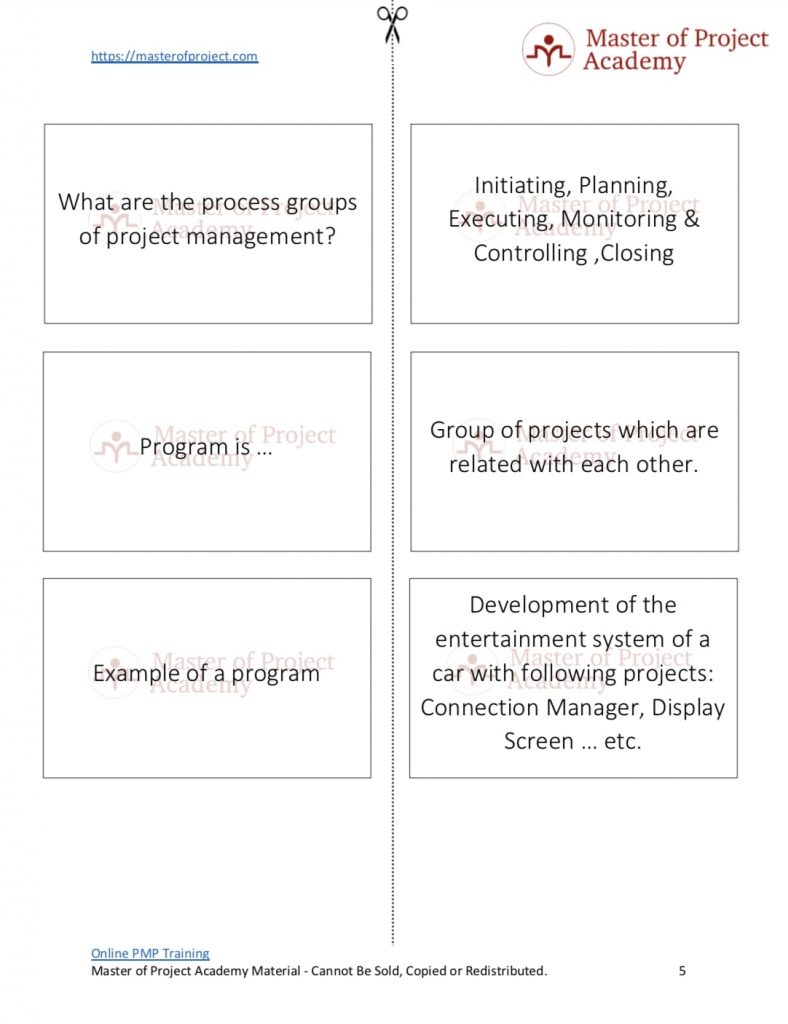 As you see, there are questions or concepts about the PMP exam on one side of the paper. Right next to it, you will see the definition of these questions or concepts.
Once you downloaded the sample flashcards PDF file, you can cut the paper into two pieces from the scissors icon shown on the top of each page.
Place the cards on the left side of the paper into a box and place the cards on the right side of the paper into another box. Or you can stick the back faces of the cards to the front faces so you will have one card with answers and rationale.
Start picking up cards from the box and memorize the PMP topics.
You can use flashcards to memorize your PMP study. Once you reach the end of your PMP study and when the exam date is closing, you will see that the flashcards helped you a lot to memorize what you studied during your PMP journey.
---
Attend our 100% Online & Self-Paced One-Hour Free PMP Training.


---
Free Download
Can I reach flashcards for free? Of course, there are free resources available. Here is our flashcard PDF file for one section of the PMP knowledge areas. Note that, it does not cover all PMP exam content. This is just a sample pdf file that includes 96 free cards.
You can download our PMP Flash Cards PDF for FREE and you can also access the FREE PMP Flash Cards Online Page which has 20 Flash Cards.