7

min. read
In this post, we take a holistic view of the CAPM Training and Certification. You can get an insight into what it takes to be certified and how to go about the entire process from choosing a CAPM certification course provider to preparing for the exam. The key to success is a good CAPM Training program.
---
Attend our 100% Online & Self-Paced One-Hour Free CAPM Training.


---
So let's begin by defining what is CAPM and then let's explore the CAPM training and Certification process.
CAPM from PMI
Certified Associate in Project Management – CAPM is a pivotal certification for you if you want to make and grow your career in project management. Project Management is a profession that is sought after by many as it is independent of industry and time, hence a proven CAPM Training and Certification gives you the impetus in your career. Moreover, CAPM is coming from the world famous Project Management Institute- PMI Institute which is a proven name in project management. PMI offers many credentials in project management for various levels of professionals. CAPM training and certification is applicable for those with less than 4500 hours of experience, but if you are asking about what is PMP, it is another certification for the more experienced practitioners.
Who should go for CAPM training and certification?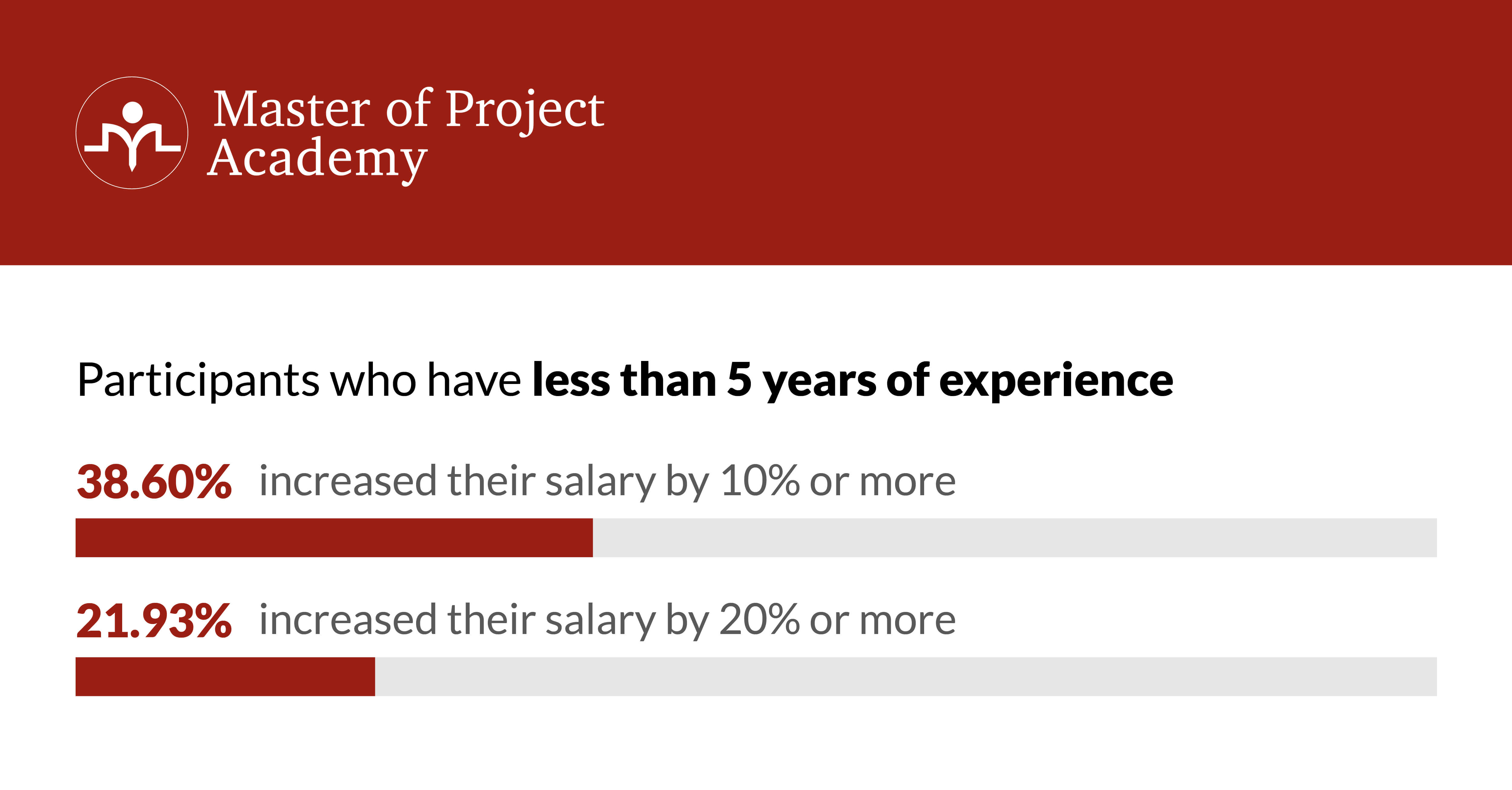 If you have plans for earning CAPM Certification, I assume some of these questions may have popped up in your mind. Do you have less than 4500 hours of experience in project management? Are you working as a project coordinator and want to propel your career upwards? Fresh from college and looking at career options that stand the test of time? Then, CAPM training and certification is the right prescription for your career. So, what does it take to write the CAPM certification exam?
Check if you are eligible to take the CAPM certification:
You need to have the following to appear for the exam:
Secondary diploma – a high school diploma or a global equivalent
In addition to the above, you need 23 hours of project management education
Watch our "CAPM Certification 7 Must-to-Know Points – What is CAPM certification?" video
From an eligibility perspective, CAPM Training and Certification program becomes mandatory to be eligible to sit for CAPM certification exam.

CAPM Application
Since you have cleared your eligibility requirement, you can proceed to apply on PMI website. CAPM training and certification providers normally provide inputs on how to apply and help you fill your application. If you are eager to learn how to apply for the CAPM exam before the CAPM certification process, you can check out an online free CAPM course.
Your application will be reviewed and processed by PMI and you will be communicated on fee payment. CAPM Certification cost is $225 for members and $300 for non-members. When you pay your fee, you get an eligibility ID. You can appear for the exam within this one year (up to three times if you do not pass) from the date of getting the eligibility ID. You can pay the fee online through credit card, send a cheque through post or do a wire transfer.
Learn More About CAPM Exam
The CAPM certification training program you have chosen should prepare you both in terms of the PMBOK Framework (content for the exam) and psychological (mental makeup) framework.
The CAPM exam is a Computer Based Test (CBT) of 3 hours duration which needs to be taken at a Pearson VUE center close to you. You do have the option to go for a paper based test. But, only if the CBT center is beyond 300 km from your home. The other case is when a company is conducting for a large group of its employees. An effective CAPM training and certification provider would guide you in all these aspects in addition to the content of the exam.
You need to answer 150 multiple choice questions in the stipulated 3 hours. English is generally the language for CAPM test but PMI provides language aids in 14 languages. An ideal CAPM Training should have CAPM exam simulator that prepares you for the real one
There are no negative marks for any question and of the 150, 15 questions are pretest for which you are not scored. These pretest questions are to assess the validity of the questions for exams to be conducted later and will not affect your score.
On the day of the exam, report at least hour prior to your exam and finish all the identification and instructions for exam related formalities and relax.
Let's take a quick look at the composition of questions for the exam with respect to the PMBOK and what aspects the CAPM training program should focus on: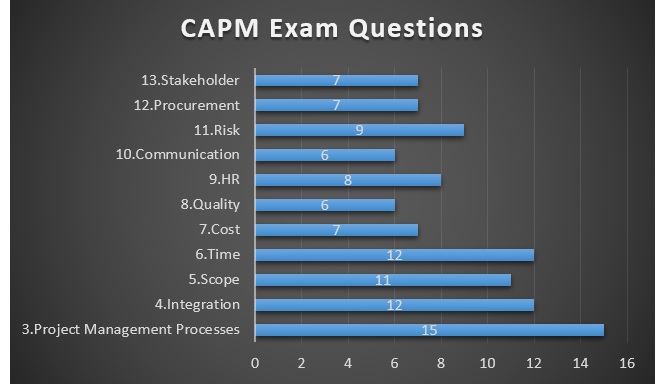 Based on the chart above, you can emphasize areas of preparation. For example, a maximum number of questions (22) come from the project management processes. Therefore, you can put more focus on that area and verify whether the CAPM Training and Certification program is designed on these lines.
---
Enroll in our CAPM exam simulator once you complete your CAPM study. You can take a look at Free CAPM Exam Simulator Demo.

---
What is CAPM Training?
CAPM training and certification empowers you to write the exam effectively. What does the CAPM training course involve? How is it going to help? CAPM Training program will give you the wherewithal for becoming a CAPM. Therefore, CAPM Training and certification gives you the eligibility requirement of 23 hours if you do not have. But, more essentially, it should help you in understanding the project management concepts, providing the direction for preparation and simulate the actual test with CAPM Exam Sample Questions, so that you do justice to CAPM Training and Certification.
Check out a section from our Online CAPM Training
What is important in CAPM Training Program?
Are you contemplating which CAPM certification course provider and what type of training to go for? Then, here are a few tips for the suitable CAPM training and certification:
Delivery:
Flexibility in training so that you can access it when and where you want.
CAPM training program should have an option for you to revise the lessons. CAPM training online generally allows you to play them multiple times if needed
What type of access to CAPM Training Videos would be provided? CAPM Training and Certification programs have the unlimited option as well as a monthly option.
Content:
Another key point you may want to check for your CAPM Training and Certification program is whether there is support from a seasoned instructor.
You generally have questions only after one round of study. This is where a classroom session could be disadvantageous if the CAPM Training and Certification program does not allow for after class support.
Do they provide a CAPM Exam Guide – that would be a quick reference guide as part of the CAPM Training and Certification program?

Study plan for certification
A CAPM study plan for CAPM Training and Certification program should define the rounds of study and practice tests you should take. You can always tweak the plan given to meet your need. Most aspirants choose a CAPM Exam Guide along with PMBOK. Moreover, after one round of study, you can take a CAPM practice exam so that you can assess where you stand. A SWOT analysis helps you do an effective risk management. Based on this, identify the areas to accentuate in CAPM training and certification. Now you know which areas to improve!
What is CAPM Re-Certification?
Now that you are a CAPM, you know the importance of planning. Therefore, plan for fortifying your growth. CAPM credential that you earned with the help of a CAPM training and certification program is valid for 5 years. Therefore, you need to re-certify.  But if by this time if you have garnered the eligibility for the PMP Certification, go for it!
Wrapping up, CAPM training and certification programs are crucial for your career growth. Since the competition in the profession is stiff, this gives you the extra edge. A CAPM training course online that meets your requirements in terms of cost, convenience, and content is critical for the CAPM exam.


Author Biography:

Sunanda Gundavajhala, B.Tech, M.B.A, PMP has over 25 years of project management. She is a consultant, trainer on project management for different sectors and is the recipient of "Recognition of Excellence" award from PMI, USA and Woman Volunteer award from Hyderabad, India Chapter of PMI. Sunanda has contributed to the "Practice Standard on Scheduling, PMI". She has worked as the Liaison officer for PMIEF (Education Foundation) for the Hyderabad, India Chapter of PMI.