14

min. read
Let me guess how you dropped on this page. You are aiming to be a PMP certified professional and preparing for your PMP certification exam. You were googling on "pmp certification" "pmp certification exam" "pmp certification training" etc. and your search results or social media posts brought you to this page.
Let me give you a tip. You are on the right page to learn about PMP certification!
I am Resit Gulec, Founder & CEO of Master of Project Academy. Don't worry after seeing my "CEO" title. I will not give you cliche "executive" pitches on "how I succeed" etc. I am very well aware that you are getting drowned everyday with these kinds of posts.
I will tell you real facts about my PMP certification story from A to Z.
Resit has more than 10 years of IT project experience including leading roles.  Resit has participated in projects ranging from 200k dollars to 35m dollars, and worked in several countries including: United Kingdom, Belgium, Greece, Portugal, Egypt, Azerbaijan, Turkey. Resit has a management experience of 20+ people from several cultures.

Resit is Founder & CEO of Master of Project Academy, and also gives project management lectures for undergraduate and MBA students as a visiting professor.
Let's go through my PMP certification story step-by-step.
1-) When did I decide to get PMP certification?
I decided to get my PMP certification in 2011. I was working at Ericsson as a Services Engineer at that time. I was working on million dollar telecommunication projects and having significant project experience. My main expertise was in the Billing/Charging domain. I was working as SDP (Service Data Point) product consultant of Ericsson. The company was good, benefits were good and I was happy with being part of a multinational company. However, I did not want to pursue my career as a technical guy. I wanted to be a project manager. No doubt, PMP certification is the most popular project manager certification around the world.
As you know, one of the PMP requirements is having project experience. Since I had a BsC degree, I must have completed 3+ years of project experience to be eligible for PMP certification. In 2011, I was a 4 years experienced professional so I was eligible to apply for PMP exam. I used the online PMP application method and after completing my PMP application, PMI send me the approval email within 2 weeks.
After that, it was the time for getting ready for PMP certification exam!
2-) Which PMP Certification Training Did I Enroll?
When I was working for Alcatel-Lucent Belgium in 2009, there was a short period where my daily work load reduced. When we were chatting with my colleagues in a coffee break, one of my colleagues advised me to attend a training since I was not that much busy at that time. After the coffee break, I sat at my PC and looked at the company's education catalog (Alcatel-Lucent University). I saw the 5 days project management education and asked to my manager whether I can enroll in this training. He approved and I attended the PMP training.
First 3 days of the PMP certification training were focusing on the theories and last 2 days were focusing on soft skills and role plays. It was a great experience to step into the project management world. However, I could not sit for PMP certification after that training since I was only a 2 years experienced professional at that time.
PMI accepts a PMP training you enrolled in if it is in the last 5 years at the time of your PMP application. So, I used this project management education details when filling in my PMP application.
3-) How did I prepare for PMP certification exam?
After my PMP application was approved, I set the target date to sit for PMP certification exam. I set a target date 6 months ahead: May 2012.
I did not enroll in a PMP training. Because I was working full time and I was engaged and wedding preparations were taking up my weekends. Therefore attending a PMP classroom training or PMP boot camp was  not feasible for me.
I was not lucky as there were no affordable and flexible online self-paced PMP certification courses. I looked for PMP certification study materials on the web, in the Ericsson's knowledge base and asked to my friends. After I determined 1-2 resources and PMBOK, I prepared a PMP study plan.
PMBOK has 13 chapters in total. I aimed to complete 1 chapter or knowledge area each week. For a full time working professional, sparing 5-6 hours each week for the PMP certification study is reasonable. When I was preparing for the PMP certification exam, I took my own notes for each chapter.
You can see part of my notes from my PMP study.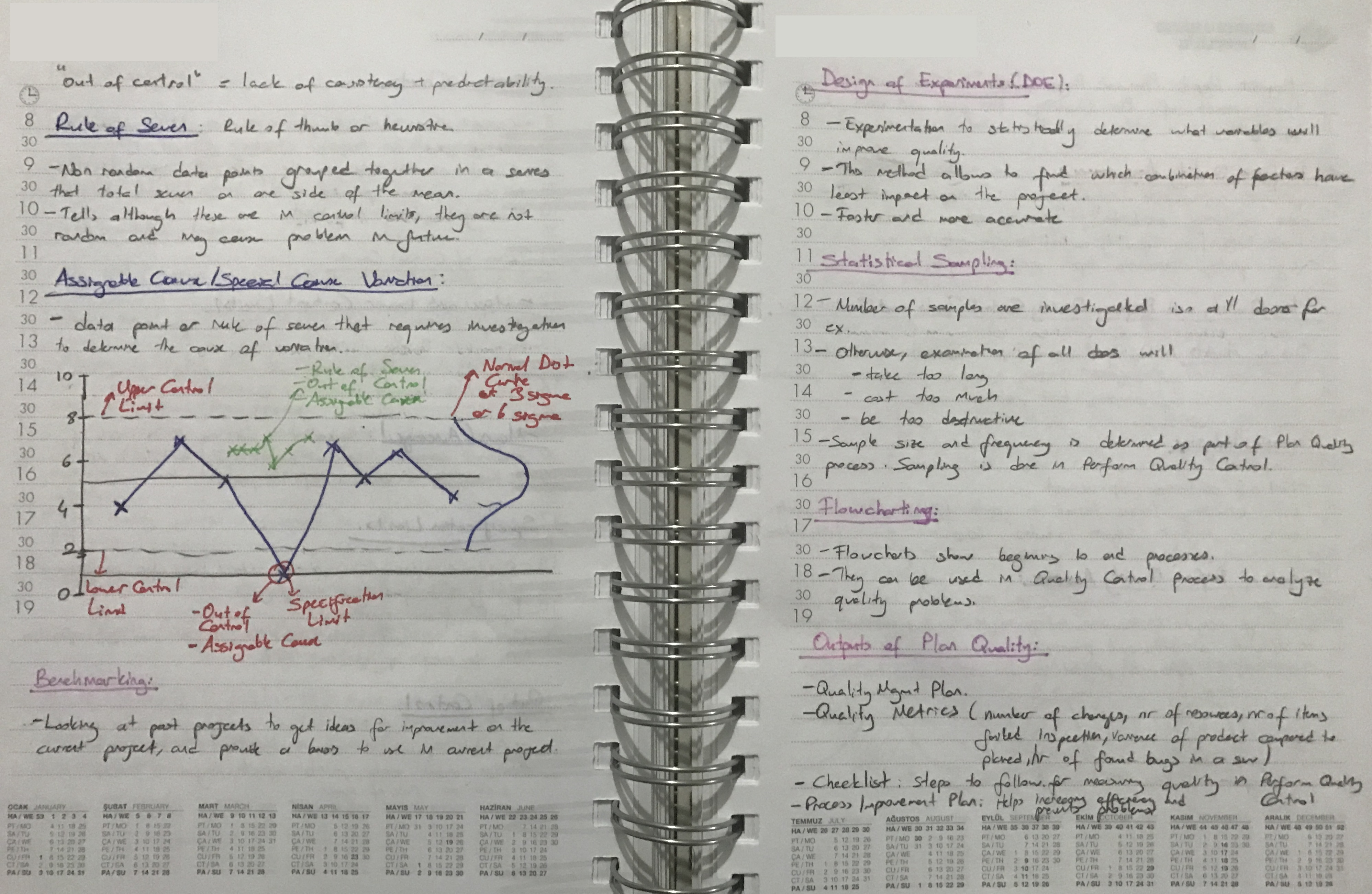 These two pages belong to the quality management knowledge area and show control charts. My complete PMP study notes were over 200 pages! After I completed each chapter or knowledge area, I was solving PMP exam questions related to the chapter I completed. This part is critical. I was taking notes for the mistakes I made.
Let's look at the results of my quality management pmp questions and answers results below.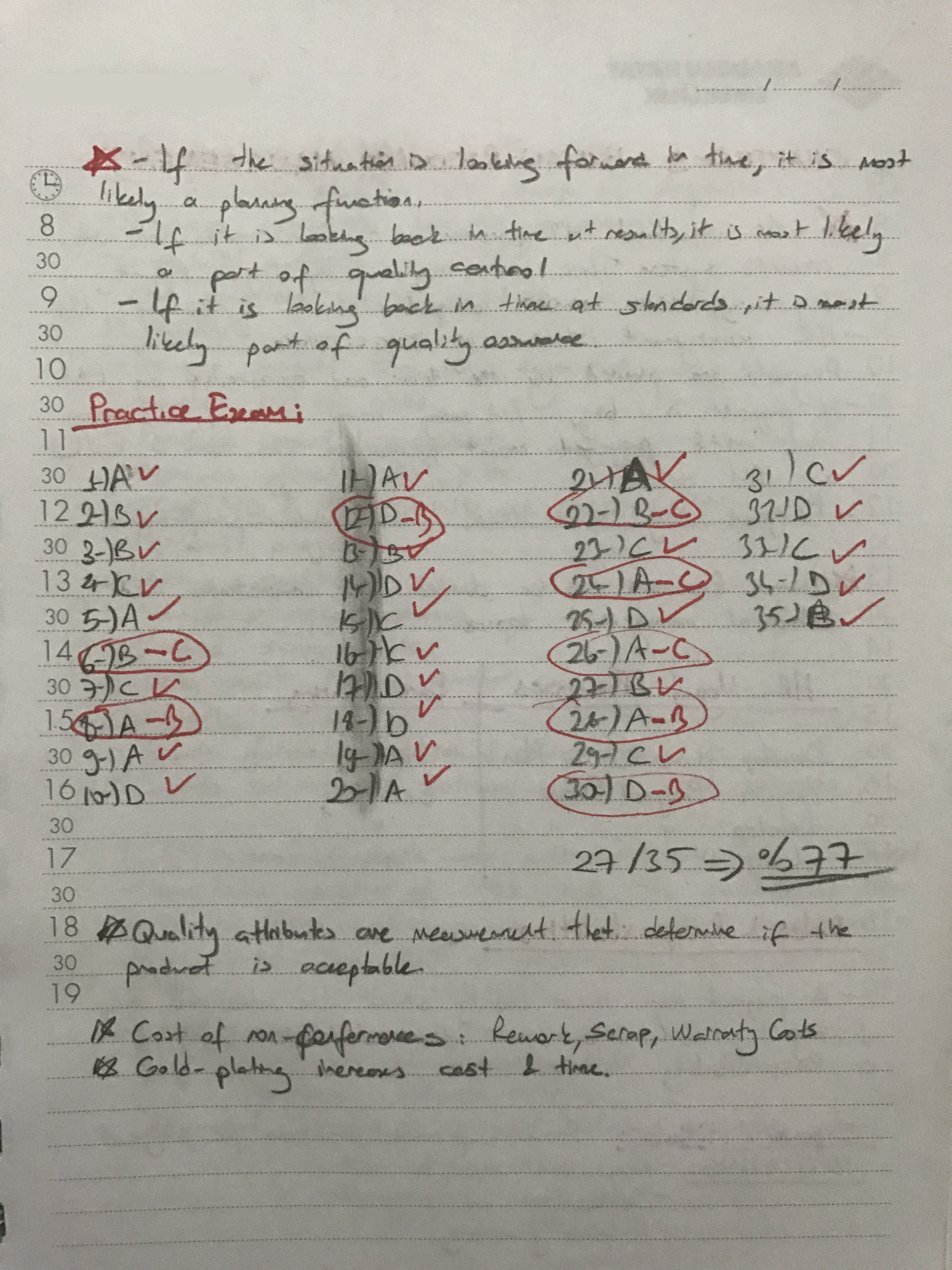 As you can see from the results, I answered 27 questions correctly out of 35 PMP questions. And this makes 77%. As a rule of thumb, aim to score over 70% from PMP exam questions or PMP question bank you go through. Because, in order to pass PMP certification exam, you should score over 61%. If you score over 70% in your PMP practices, you can sit for the PMP exam confidently.
There are stars and notes below the PMP quiz results. Those are my mistakes. I wrote down my mistakes and why I made a mistake in my PMP study notes. These notes helped me to go through completed chapters and knowledge areas to keep my knowledge fresh till PMP certification exam date. Because, PMP preparation takes 4-5 months, and towards the end of your study, it might be hard to remember chapters you completed earlier.
Taking notes and going over notes helped me to keep my knowledge fresh. After I completed my PMP study, I have gone through several sample PMP exam questions. I made sure that I could score over 70% in each test before I sat PMP certification exam.
In the last week before the PMP certification exam date, I did not study for PMP. I took my PMP notes and went over them for 40-45 minutes each day to keep my mind fresh.
4-) How was my PMP Certification Exam Day?
I took my PMP certification exam in Istanbul. It was 5 May 2012. I sat for the PMP exam on Saturday because, I was working during the week and I did not want to take an off day from work to sit for PMP exam.
On Friday, before exam date, I did not do anything about PMP. After work, I walked a bit in the bosphorus, and turned back to home around 21:00. I watched TV for a while and went to bed at 23:30.
My PMP exam was scheduled at 14:00, however, Istanbul is a busy city and you never know when you will hit a traffic jam. Therefore, I arrived to the exam center at 13:00 and waited for my PMP certification exam hour.
Before the PMP certification exam, there are basic tutorials about how you will use the exam system. Take your time to practice and if you are excited, use this time to calm down.
You can take a break during your PMP exam but keep in mind that these breaks will count on your time. I took only one 5 minutes break when I was at 100th question.
Mark the questions you are not sure during the exam. Once you complete all of your questions, go through your marked questions.
In the end, after four hours of exam duration, you will see your results.
5-) My PMP certification exam results & PMP certification
Once you click on to complete your PMP certification exam, you will be able to see your results.
Finally, after 5 months of preparation, I passed the PMP!
Following were my PMP certification exam results.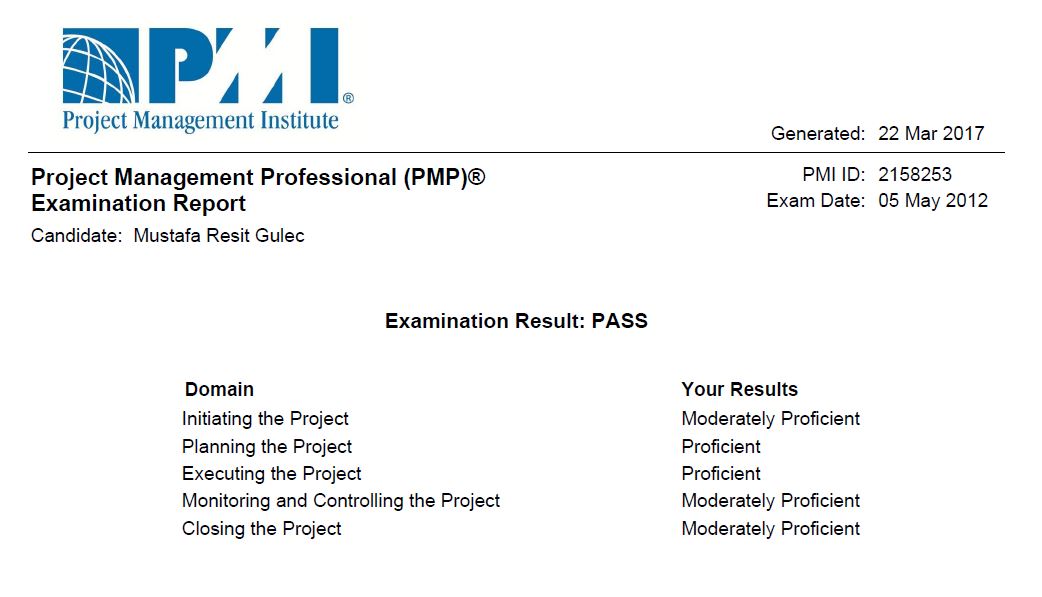 Note that, this is a one page report. You can see my full PMP certification exam results.
AND BELOW IS MY GLORIOUS PMP CERTIFICATION!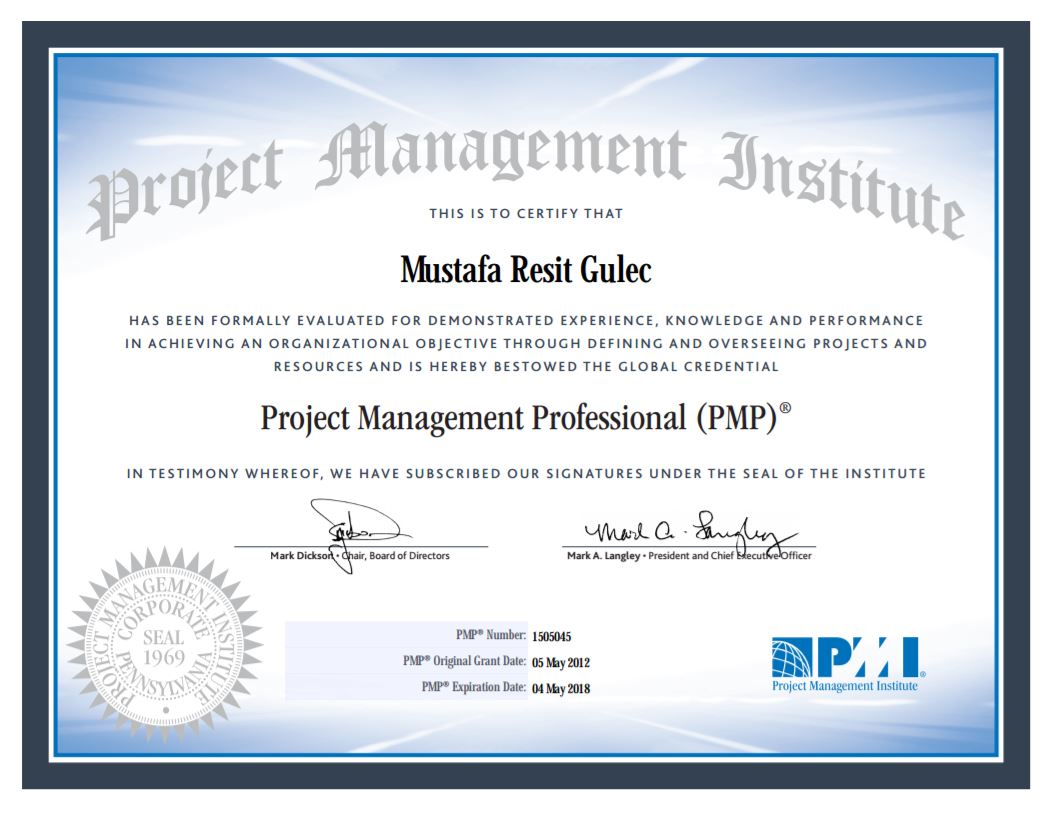 Master of Project Academy
Review by: Resit Gulec
5 / 5 stars
It took around two weeks to receive my PMP certification at my home.
6-) What happened next? I found a new job with a 27% salary hike!
I was a PMP! I was still working in Ericsson as Services Engineer. However, I was aiming to switch to a project management position. I looked for the opportunities in my company first. There was a project manager position in Ankara. My line manager and also PMO manager for the position in Ankara were willing for my relocation and getting the position. However, I did not want to change my city and there were not any positions in Istanbul office. Therefore, I looked for project manager positions in other companies in Istanbul.
After interviews, I got a Project Manager position in OBSS, Turkey's 2nd largest software vendor with a 27% salary hike!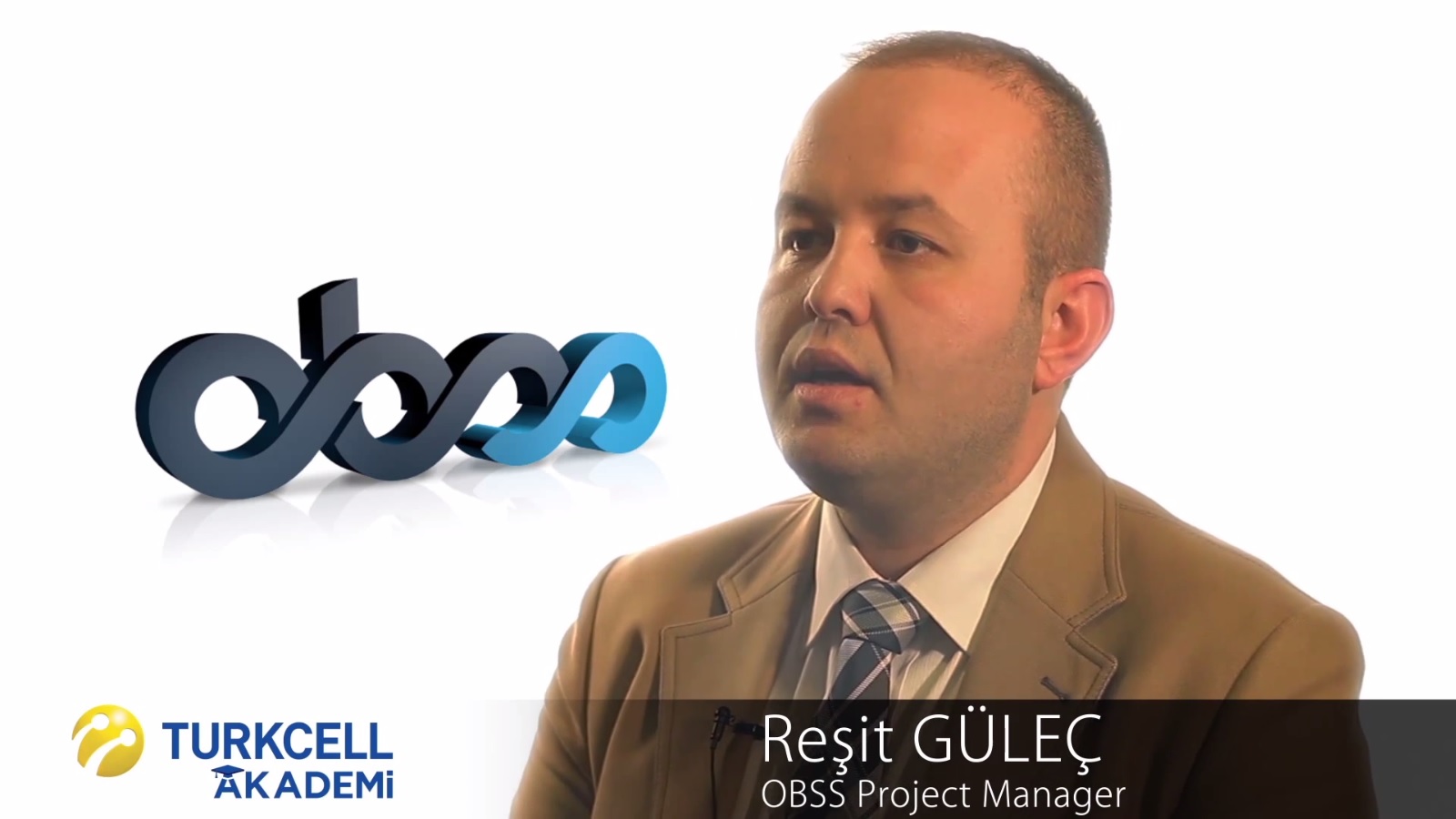 I received the job offer in November 2012, and started to work at OBSS in January 2013. I managed several software projects in Banking, Insurance and Telecommunication sector. Turkcell Digital Academy project, the largest online education platform of Turkey, was the biggest one with 200+ stakeholders including all executive team of Turkcell. Turkcell is 5th largest telecom operator in Europe.
In August 2013, I started to write my own project stories through masterofproject.com. Hah, this is how Master of Project Academy venture started!
7-) Visiting Professor at Ozyegin University
During 2014 summer, I received offers from universities for giving project management lectures. In September 2014, I started to give project management lectures for undergraduate and MBA students as a visiting professor at Ozyegin University.
It was an elective course and students from several disciplines were attending to the course. Mechanical enngineering, electrical engineering, industrial engineering and business administration were some of the departments that students were coming from.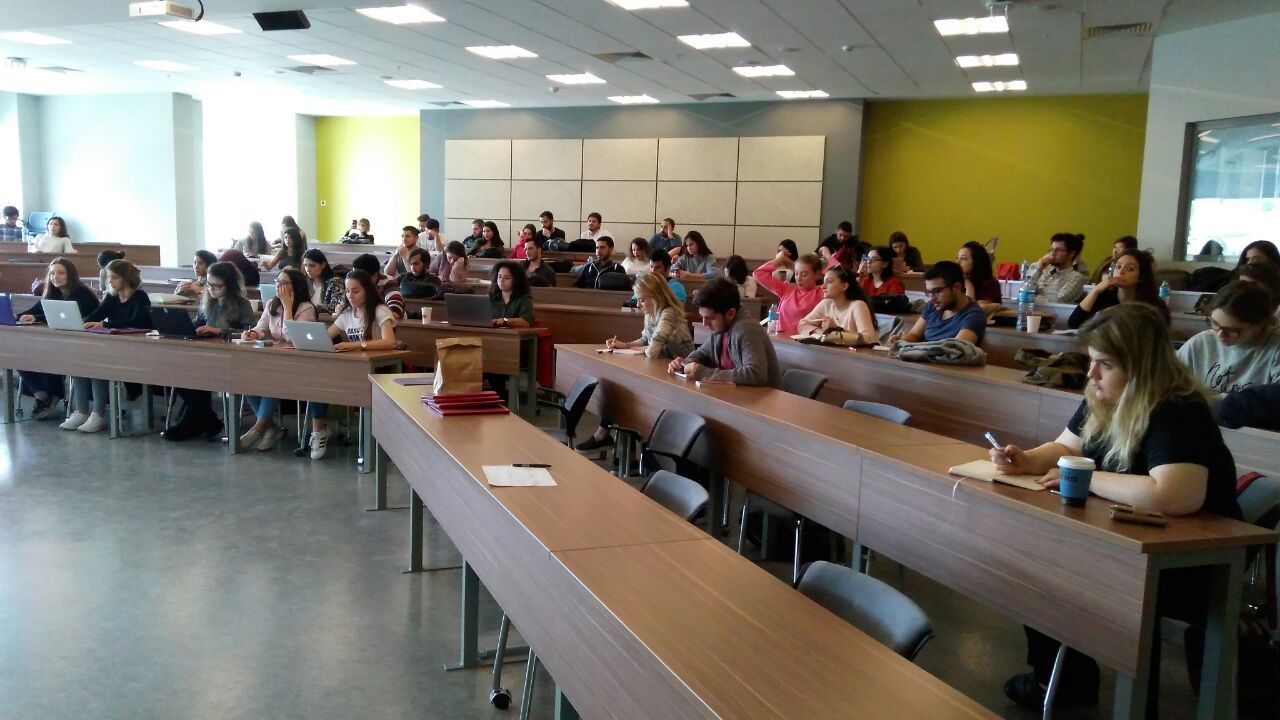 There were 113 registered students to the class. Actually, it was a really big challenge for me to keep students engaged. Because, the main aim of the students were getting a high mark at the end of the class and passing one more lecture in their curriculum to get their diploma.
I prepared engaging presentations, included real-life project stories and quizzes to increase engagement.
And, I did rehearsals at home before showing up in the class. I recorded these rehearsals to check myself. To be honest, I did not have an intention to turn these into an online PMP training. But you never know what life brings to you!
😎 How did I start teaching PMP certification training online?
At the end of the spring semester, I put my rehearsals into online education platforms. They were not too professional and I did not use professional production methods to create my rehearsals. I used my 5 USD microphone and a screen casting tool. The feedback from the students were amazing!
More than 30,000 students enrolled in my online PMP course in one year!
I was at the top of the Maslow's Hiearchy of Needs (you will see this in PMP certification training). I worked on multinational companies, I managed several projects and I have several success stories. Receiving a mail that one of my students passed the PMP certification exam was a feeling that I never had in my professional life!
You can see a sample video from my rehearsals below.
As I told previously, I captured these rehearsals with a simple microphone and with a screencasting tool. 7 to 8 out of 10 students were leaving excellent comments while 1 to 2 students were telling that my pronounciation is not undestandable. Overall rating from all student ratings were 4.3 over 5.
I value student feedback!
I found Daniel Williams, our Voice Artist, to narrate my PMP certification training content. Daniel is a native English-speaking narrator and he narrated PMP course content in a professional voice recording environment. I have updated the visuals and presentation of the course as well to improve overall student satisfaction.
Below is a sample lecture from our transformed PMP certification training content.
Due to ever growing student interest in my courses, we moved our online courses to our own platform http://masterofproject.com in April 2016. In December 2016, we exceeded 125,000 professionals in 170+ countries. Upon exceeding this 125,000 professionals milestone, Master of Project Academy appeared in several news, blogs, radios and TV channel sites.

9-) Recent PMP certification exam takers' reviews
Master of Project Academy has a 99.6% success rate in certification exams. The main driver of PMP certification training success is, it focuses on theorethical concepts of project management together with the practical implications. In other words, you will see examples of project management terms and concepts during our PMP certification training. This helps our students to understand concepts better.
Let's look at recent reviews of our PMP certification training students who sat for PMP certification exam.

"PMP training material was really good. Especially the handouts are externally useful for preparation of exam. In reality, these downloaded handouts made me to focus on PMP exam seriously. These training materials & its concise compilation & lucid manner illustration made me to take more interest. This is my point of PMP review for the PMP training materials of Master of Project Academy."
Read Rahul Kamble's full PMP review.

"To those of you reading this, prior to signing up for the Online PMP Training course from Master of Project Academy, I was looking at other programs offering live lectures (in-class or online), and after completing Master of Project Academy's Online PMP Training and writing the exam you should not consider anyone else! The course videos cover the knowledge areas very well, and if you have any questions their email responses are very helpful."
Read Andrew Di Piero's full PMP training review.
We have thousands of similar stories. You can search on google as Master of Project Academy Reviews and you will see the results.
7 Reasons to enroll in Master of Project Academy's PMP Training
During my life, I hated to do salesy pitches. I am not trying to sell you our training. I will list here the reasons of why you should enroll in our PMP training. It is up to you to enroll or look for alternatives. I want you to succeed in PMP certification exam and I wish you to find the best PMP certification training that will help you to get PMP certification.
1-) I was in your place before: I was preparing for PMP certification exam and I know what a PMP aspirant looks for in a PMP training. I know that some terms and concepts might be difficult to understand. I ensured these terms and concepts to be easily understandable by giving real-life project examples.
2-) Self-Paced & 100 Online: PMP certification exam preparation is a long journey. It is hard to find time to study for PMP exam if you are a working professional. Our PMP certification training is 100% online & self-paced. So, you can follow the PMP lectures based on your schedule. No risk of missing any lecture!
3-) 125,000+ Professionals from 180+ countries: You will join into a world-class community. Professionals from 100+ corporate and well-known companies enrolled in our courses.

4-) Response in 24 Hours!: We respond to your emails and questions in 24 hours. You will feel the interaction of a classroom training with our PMP certification training.
5-) 30 Day Money Back Guarantee: Your satisfaction is our first priority. Enroll in our courses, watch the lectures, and if you will be dissatisfied, email us at [email protected]. We will refund your whole transaction amount in 24 hours!. Our less than 1% refund rate shows our students satisfaction.
6-) Leading 99.6% Success Rate: Our overall success rate is 99.6%. You can look around but this is really an assertive pass rate.
7-) Affordable & Flexible Pricing Plans: We do not offer a fixed "buy" or "go" pricing plan. We have monthly, annual and lifetime plans. You will have the flexibility to choose whichever fits to you.
If you have enough time to study and pass PMP certification exam in one or two months, you can opt for the monthy pricing option and the quicker you complete the course, the less you can pay.
If you are a working professional, one year will be a reasonable time to get ready for the PMP certification exam. You can enroll in annual plan and save money.
If you want to keep yourself up to date with the changing content of PMP certification training, or if your employer will be bearing costs of your PMP certification training, you can enroll in lifetime access option.
I assure you, you won't be unhappy.
Even if you will be unhappy, you will get a refund and you will be happy again.