15

min. read
CAPM is the entry-level project management certification provided by PMI. Increasing demand for the project management professionals in the job market made this certification more valuable over recent years. In order to get the CAPM certification in your first attempt, you must have a solid CAPM study guide, quality study materials, and good CAPM certification exam prep training to learn the exam content.
---
Attend our 100% Online & Self-Paced One-Hour Free CAPM Training.


---
In this article, we have listed the 10 CAPM exam prep tips and how you should choose your CAPM training step-by-step.
Before diving into CAPM exam prep tips, it is better to know the fundamentals of CAPM certification.
What is CAPM Certification?
PMI (www.pmi.org) offers CAPM (Certified Associate in Project Management) certification for aspirants who are entering the project management profession or those who wish to acquire the basics of project management knowledge. In any typical project, there are team members who contribute their specialist skills such as software coding or testing in a software project or landscaping in a building project.
CAPM is suitable for such individuals, who can consider this certification as an entry-level to acquire the relevant skills and knowledge, which will help them to work better in a project environment, understand the challenges and work with the project manager in a more aligned manner.  CAPM exam prep requires a considerable investment of both time and money and therefore it is very important to prepare well in order to clear the exam in the first attempt and avoid the pains and effort of repetition.
We will discuss various CAPM Exam prep tips which will help CAPM aspirants to be well informed, plan better and pass the CAPM Exam in a single attempt.  These helpful tips are captured from various experiences and feedback from students, covering the initial stage, the preparatory stage, and the final exam taking. Following are 10 CAPM PMI certification exam prep tips.
Watch our "CAPM Certification 7 Must-to-Know Points – What is CAPM certification?" video
CAPM Exam Prep Tip #1: Understand the exam structure and content
The first step as part of CAPM exam prep would be to understand the structure of the exam. What is the content outline of the exam and the weightage given to various chapters of the PMBOK (Project Management Body of Knowledge)? The following table gives the outline of the exam content, as taken from the PMI site (www.pmi.org) from the pdf document "certified-associate-project-management-exam-outline-sixth".  Each chapter of the Project Management Body of Knowledge PMBOK Guide is given a certain weightage as shown below:
| | |
| --- | --- |
| PMBOK Guide 6th Edition Chapter | Weightage |
| Introduction to Project Management | 6% |
| Project Environment | 6% |
| Role of the Project Manager | 7% |
| Project Integration Management | 9% |
| Project Scope Management | 9% |
| Project Schedule Management | 9% |
| Project Cost Management | 8% |
| Project Quality Management | 7% |
| Project Resource Management | 8% |
| Project Communication Management | 10% |
| Project Risk Management | 8% |
| Project Procurement Management | 4% |
| Project Stakeholder Management | 9% |
| Total | 100% |
As we can see, the questions cover all the areas and it is important to study all the areas. Project Management areas are all integrated and the aim of the test is to provide opportunities in all the areas. The examinee needs to have a strategy for the CAPM Exam prep and allocate time for learning all the areas.
PMBOK Sixth edition is nearly 700 pages and the huge amount of information may appear intimidating for beginners.  However, through a methodical approach, you can get a good overview of knowledge. Using a user-friendly CAPM exam prep training course program along with spending time on PMBOK, alternating between both frequently and iteratively will help you towards subject mastery and help in passing the exam in a single attempt.
Please note that the latest pdf version of PMBOK has combined PMBOK and Agile Practice Guide into one document with separate sections for each part. Agile Practice Guide is not necessary for CAPM Exam, however, can be used as a quick reference to understand any agile concepts. During the first reading, it is suggested to begin with the introduction chapter and move in the order of the book. After the initial reading, it will be necessary to refer to specific sections to improve knowledge levels in all the chapters while obtaining training and later as well.
Most examinees worry about how to remember all the inputs and outputs of the processes. It is not required to memorize but it is more important to understand the purpose of each process. Once the purpose is understood, it will not be difficult to arrive at the correct answer through logic and using elimination techniques.
CAPM Exam prep tip #2: Prepare a plan
As a CAPM aspirant, once you do the groundwork and understand the course content and structure of the exam, the next most important aspect would be to create a personal plan for the CAPM Exam prep. In a way, you are learning how to apply project management for your own very important personal project – passing the CAPM Exam on the very first attempt. Based on your work schedule and available time for study over the weekdays and weekends, estimate the time available for allotting to CAPM Exam on a weekly basis.  You may not be in a position to estimate how much time you need to cover the portion at the beginning of the CAPM Exam prep.  Try sample reading the book randomly and check your comfort level with the subject and estimate the overall time required.
Watch our "How should I study for CAPM® exam?" video
You will need to allow time for various activities.  Activities involve learning the concepts from the training course, reading PMBOK, and taking sample tests for each chapter.  You may also consider taking a full exam simulation test at the very beginning to see your score before your begin your training.  This will set a baseline and tells you where you stand based on your existing knowledge. Later, at the end of CAPM exam prep training, when you take the full sample test, the improved score will show the effectiveness of the training and your preparation.
CAPM Exam prep tip #3: Scheduling the exam carefully
Scheduling for the exam and booking a slot without a baseline plan may be risky.  It is important to assess where you stand and what effort needs to be put in before an exam date is decided, especially since everyone wishes to pass the exam on the first attempt. Backward scheduling would mean you fix an exam date and start working backward as to how many hours of effort per week or per day are needed to complete the course learning etc. It is always a good idea to spend a few initial hours of prep in understanding the exam, knowing your own knowledge level, and estimating the available time for study, before scheduling the date for the exam. This initial planning will vastly increase your chances of passing the exam on the first attempt. Please refer to the document from the www.pmi.org website the pdf document "certified-associate-project-management-handbook" for details about the modes of exam available (paper-based or computer-based), the process for scheduling the exam, and other details.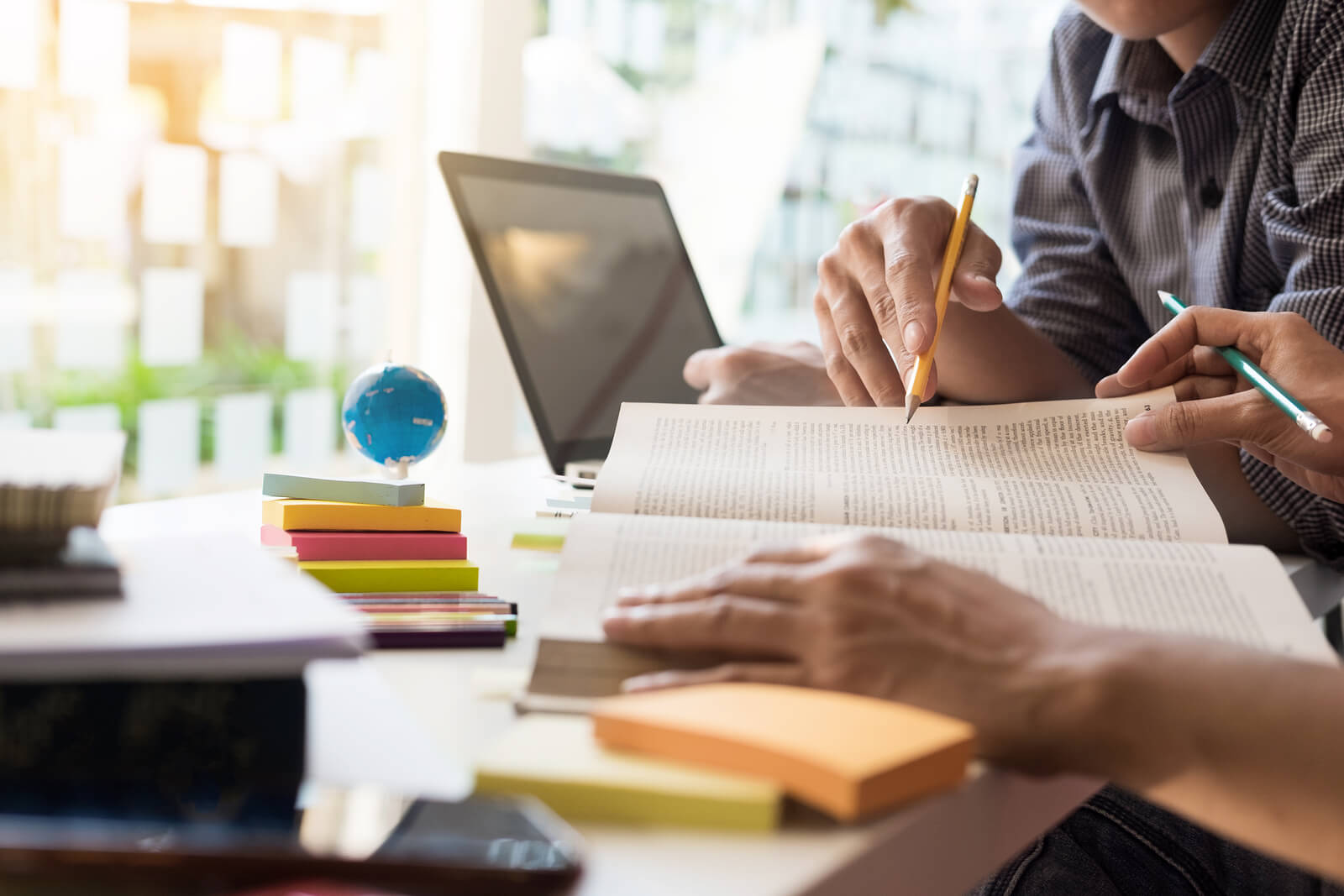 CAPM Exam prep tip #4: Know the purpose of pretest questions
The CAPM exam consists of 150 questions that need to be completed within three hours. Out of the 150 questions, 15 questions are pretest questions that are randomly spread in the test and are not scored.  There might be some confusion about this aspect of the exam. No examinee will know which question is scored and which is not. Going with the thought that a particular question might be a pretest question can be distracting and can waste your valuable time.
---
Enroll in our CAPM exam simulator once you complete your CAPM study. You can take a look at Free CAPM Exam Simulator Demo.

---
You need to ignore this aspect and treat each question as if it will be scored. All we know is that there is a ten percent (15/150) probability that it could be a pretest question. As a CAPM Exam prep tip, please note that if a particular question is confusing, you need to answer your best guess and move on to the next question, instead of lingering on, as you need to be cognizant that there is a 10% chance that it could be pre-test question.
CAPM Exam prep tip #5: Read each question carefully, give more attention to easy questions
It has been observed that many examinees lose valuable scores sometimes, especially scoring easy questions when they tend to rush and answer easy questions.  There is plenty of time, three hours available for the exam, and therefore, read each question carefully fully, read all the choices carefully before answering even a simple and straightforward question.  Watch out for questions that have qualifiers such as "MOST correct", "NOT", "EXCEPT", "BEST possible" etc. A more careful deliberate approach is needed to ensure scoring on such questions.   It is important to cultivate good practice right from the practice exams during the CAPM Exam prep stage.
CAPM Exam prep tip #6: Rely on your strengths
Depending on the abilities, experience, background, and learning, we tend to be relatively stronger in certain areas.  Strategize your answering in such a way so that you answer the questions of your strength at the beginning and gain confidence. For example, if you are good at math, it may be a good idea to answer any questions involving using formulas, early in the exam. During the practice exams, make a note of the areas of your strengths and weaknesses. While it is good to practice harder on the topics, it is equally if not more important to consolidate your strong areas and ensure good scoring on the test.
CAPM Exam prep tip #7:  Jot down the formulas and any other useful information at the beginning of the exam
It helps to jot down formulas such as Earned Value related and useful formulas learned in the course before the test begins.  Examination centers provide either paper and pencil or electronic whiteboards.
CAPM Exam prep tip #8:  Read the PMBOK
While CAPM exam prep courses make it easy to go through the concepts in a user-friendly way, it cannot be stressed enough about the importance of reading PMBOK and referring to it as often as possible throughout the preparation. It is important to allocate enough time for reading PMBOK as a CAPM exam prep activity.  As CAPM is for those practitioners who are beginning their career in project management, there is more emphasis on an examinee's knowledge of PMBOK, whereas, in Project Management Certificate exam, which is for experienced project professionals, there is additional emphasis on the application of the knowledge. A personal copy of the pdf version can be downloaded from the www.pmi.org website by all members.
CAPM Exam prep tip #9:  Reading PMI's CAPM handbook
Some of the tips here are based on the information available in the CAPM handbook. As part of CAPM Exam prep, it is very important to read the CAPM handbook. It helps to understand the various rules and policies. This document can be downloaded from www.pmi.org, free of cost.
CAPM Exam prep tip #10:  Improve your confidence levels during the learning phase and practice
While answering practice questions, sometimes it may appear that there is more than one correct answer and through the elimination of some choices, after narrowing down let us say from 4 to 2, an answer is selected through guessing. It helps to keep track of what questions you scored correctly through guessing and revising that particular area of course. Generally, during practice tests, it is recommended that you aim to score 70% or above correctly while minimizing any reliance on guesswork. This will boost your confidence levels during the CAPM Exam prep phase and vastly increase your success of passing on the very first attempt.  Maintaining the data about your performance and tracking your progress will help you in knowing the areas of improvement and working on those areas progressively will enable you to control and ensure steady progress.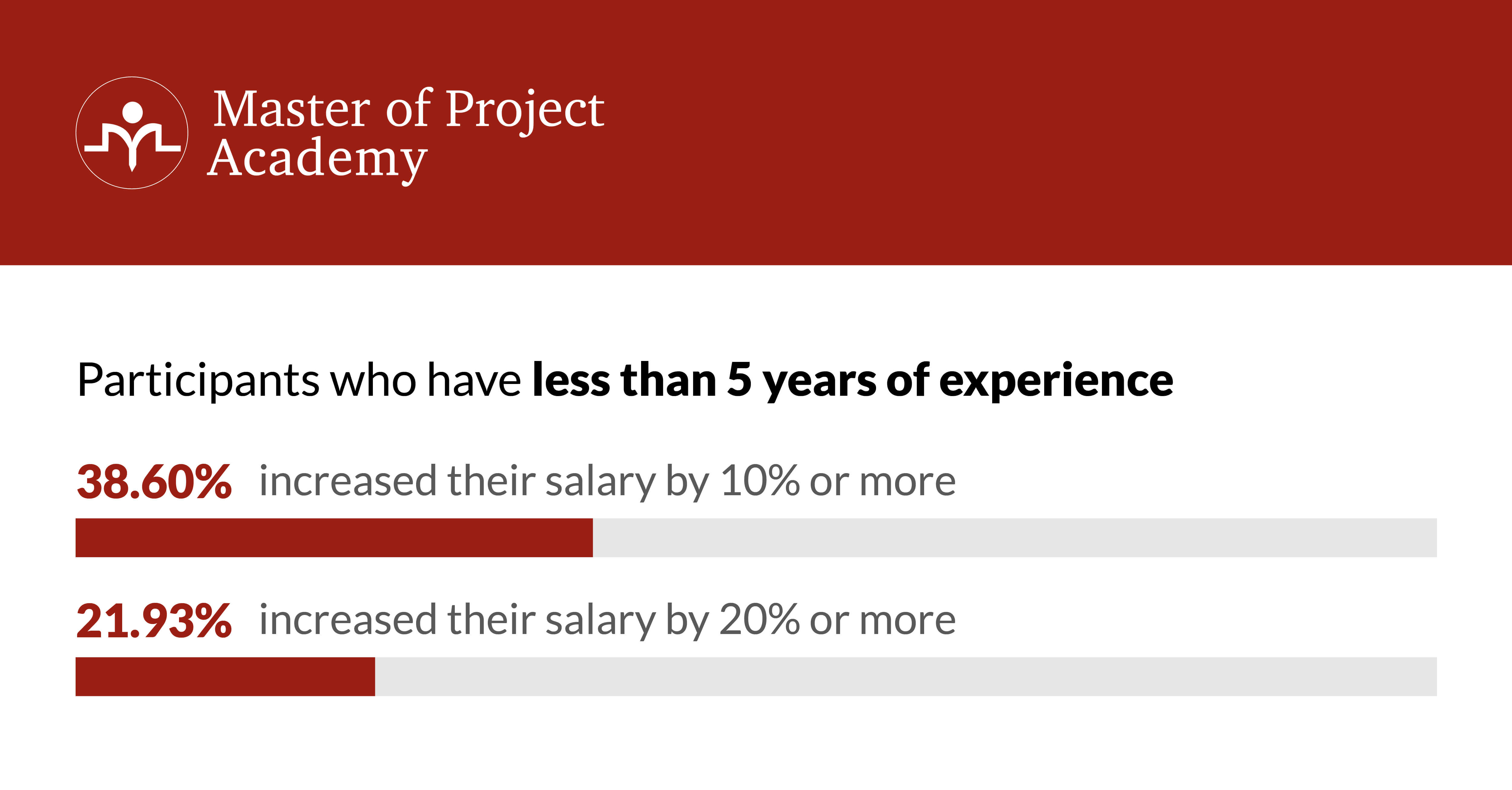 CAPM Exam Prep Training enables you to achieve your goal of CAPM certification. If you are a beginner in project management or scouting for jobs, out of college, CAPM certification with the right CAPM Exam Prep Training propels your career upwards. Certifications from world-renowned organizations are career boosters. Therefore, if you become a Certified Associate in Project Management CAPM offered by the Project Management Institute – PMI Institute, your career prospects would be bright. PMI has a global presence and all its certifications are coveted.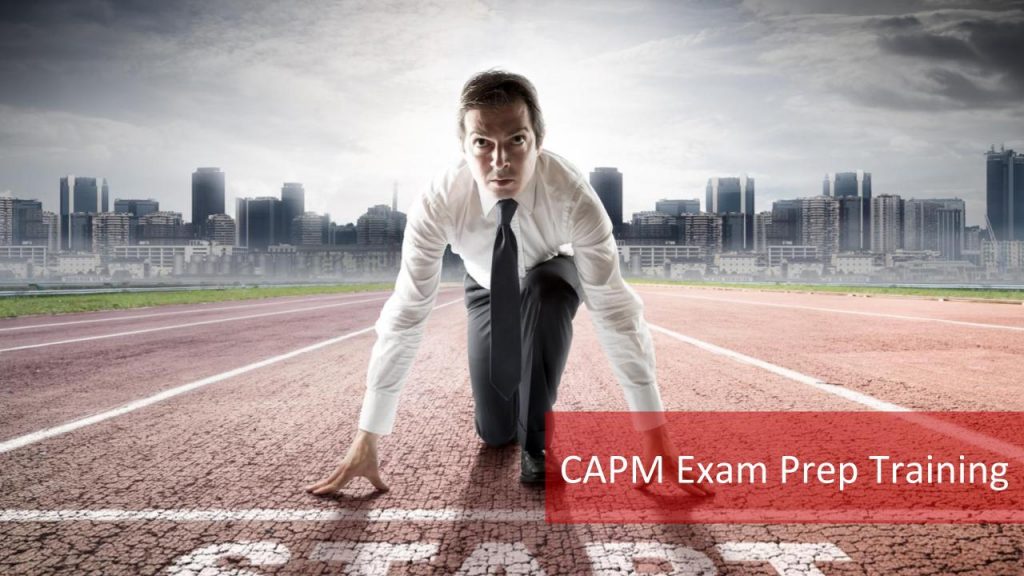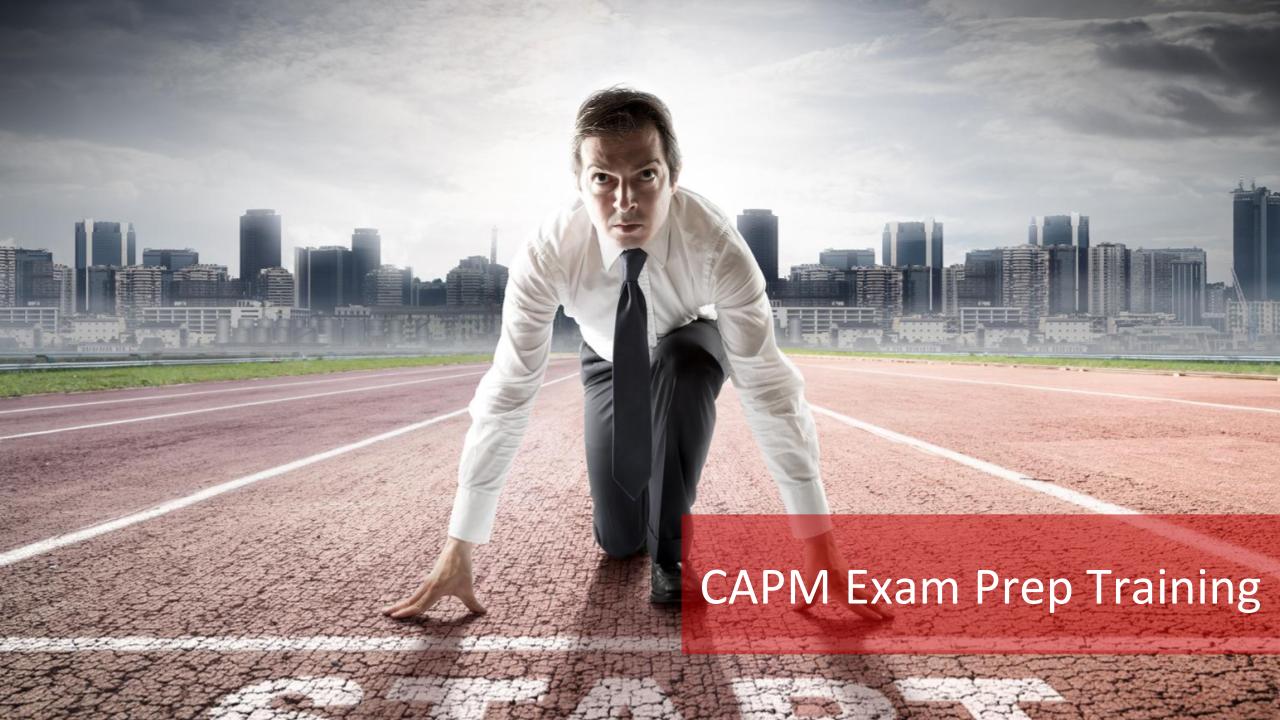 What does CAPM Exam Prep Training entail? Why CAPM Exam Prep Training is needed? Is it mandatory to go through the CAPM Exam Prep Training if I have to crack this exam? If your mind is buzzing with these, you are going to get your answers in this post, read on!
What is CAPM Exam Prep Training?
CAPM Exam Prep Training will firstly help you in meeting one of the prerequisites of appearing for CAPM. Secondly, the CAPM Exam Prep Training facilitates your preparation for the exam.
What does CAPM Exam Prep Training Consist Of?
CAPM Exam Prep Training often gives the concepts of project management based on the PMBOK. It would cover the 47 processes that are spread across the ten project management knowledge areas and 5 Project Management Process Groups. Each process has a specific set of inputs. You apply the set of tools and techniques to these inputs to get the desired outputs. This CAPM Exam Prep Training gives insight into how the 47 project management processes are to be applied for the successful completion of projects. PMBOK is based on the best practices followed by project managers globally.
In addition to the concepts, CAPM Exam Prep Training also provides a CAPM study plan for exam preparation and a CAPM exam guide to help you crack the exam easily.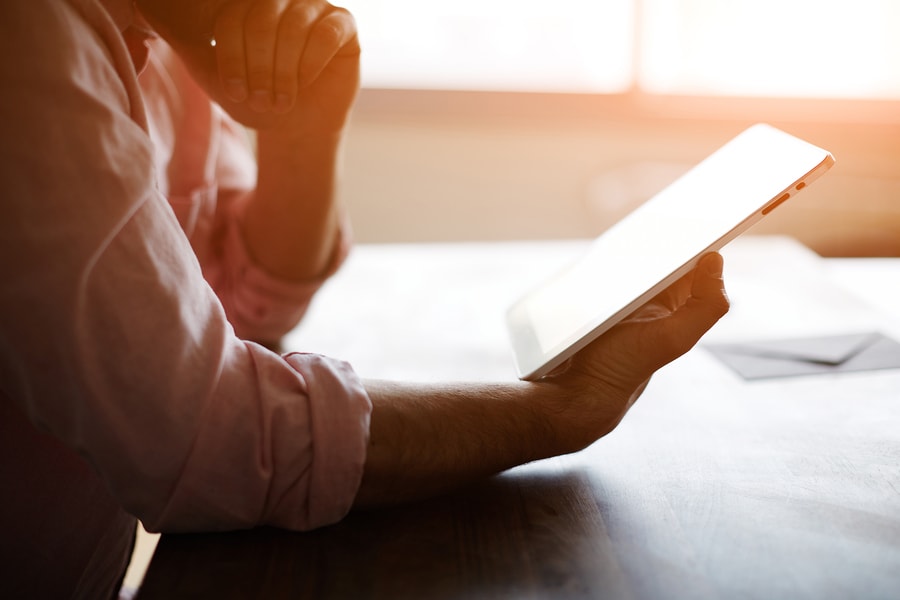 Which one is the best CAPM Exam Prep Training for you?
Some of the options for CAPM Exam Prep Training are CAPM education courses, CAPM classroom sessions, and CAPM training online to name a few. To know which is the best CAPM Exam Prep Training for you, first ensure that it satisfies the eligibility requirement of giving you 23 contact hours of project management education.
After this, examine the following in the CAPM Exam Prep Training being provided:
An experienced instructor who can explain the concepts and also guide on how to approach the exam
Please be sure this is an exclusive CAPM Training and not a PMP training course. The level of complexity is different for the CAPM and PMP Certification Exam. You don't want to scare yourself by trying to scale up to the PMP exam as yet.
Flexibility in training especially if you are juggling between preparing for the exam and tight project schedules provided by the CAPM training course online.
Money-back guarantee if you are not satisfied with the course.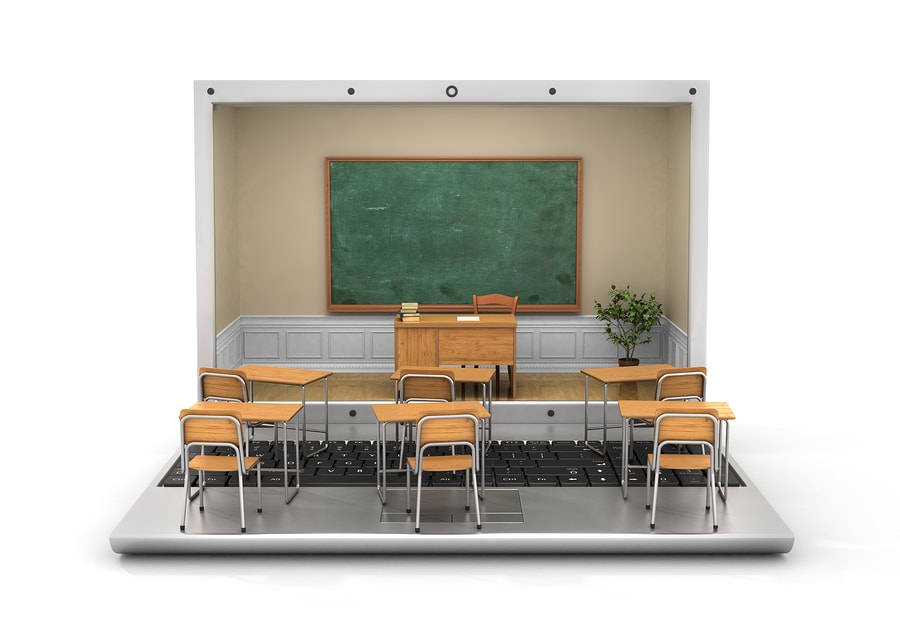 What should the CAPM Exam Prep training comprise?
CAPM Exam Prep Training should help you get a feel of the actual exam so that you can confidently attack the exam.
So, please check that the training has CAPM exam sample questions. The more you practice, the less you tend to make mistakes in the actual exam
Moreover, check if the CAPM Exam Prep Training has specific Math Sample tests alongside CAPM exam questions. It will help you be confident in the numerical questions
Typically, a CAPM Exam guide is provided along with the CAPM Exam Prep Training. This would help you in getting the gist of the concepts and be handy when revising before the exam
You would also need guidance on the CAPM application process and exam-related information. Generally, these should be part of the CAPM Certification Training
Look out for some tips and tricks, cheat sheets, mind maps, how-to hints, formulas, etc. that are the add-ons in a CAPM Exam Prep Training. For instance, you can check out the CAPM review article for a real-life CAPM Exam Prep training story.
CAPM in a Nutshell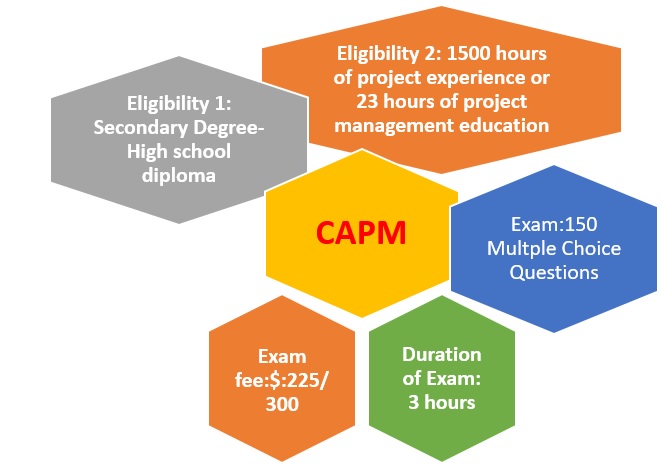 Eligibility:
As you can see from the picture, for you to appear for CAPM, you must have a Secondary Degree-High school diploma. Moreover, you must have completed 23 hours of project management education. You can get the 23 hours from CAPM Training.
Exam Fee:
You need to pay $225 or $300 depending on whether you are a member or not. Membership is always advisable as you get not only a discount on exam fees but access to a host of resources from PMI. These would help you to increase your knowledge, network, and be in touch with professionals across the world. Check out the CAPM Certification cost article to learn more.
Exam:
The CAPM Exam Prep Training would have prepared you for the exam. CAPM exam is a computer-based exam that you take at a Pearson VUE center. The CAPM exam is for 3 hours wherein you need to answer 150 multiple choice questions and training typically should have geared you up to manage your time through the CAPM exam sample questions.
The CAPM Exam Guide– included in the CAPM Exam Prep Training would have covered the PMBOK concepts with the right amount of emphasis as per the exam pattern, given by PMI. You get the maximum percentage of questions (15%) from Project Management Processes – Chapter 3 of PMBOK. Another 12% each from Time and Project Integration Management Knowledge areas, etc. as can be seen from the pie chart below: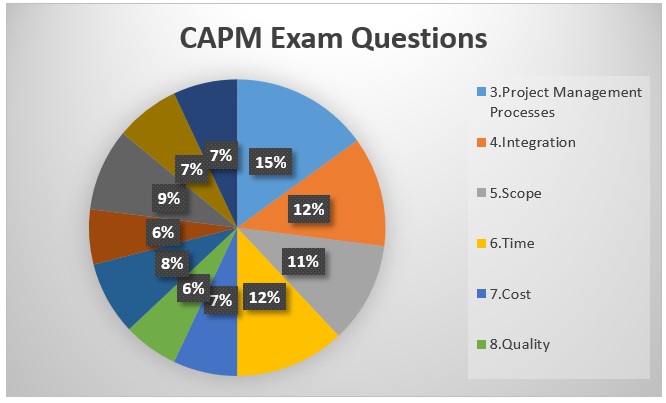 Check our CAPM Exam Training Video:

What Happens After CAPM Exam?
You have successfully become a CAPM now! Your thought could be what after CAPM? Of course, you will start on the career growth path and zoom ahead. Along with this, you need to be aware that CAPM is valid for five years and needs renewal. But, by this time you may have earned enough experience to be eligible for project manager certification – the gold standard in project management. So, the choice is yours!
Therefore, CAPM Certification Training is the critical success factor for making it to the valuable CAPM certification which sets the ball rolling for faster growth and learning. So, go ahead and realize your aspirations by selecting the most suitable CAPM Exam Prep Training.


Author Biography:

Sunanda Gundavajhala, B.Tech, M.B.A, PMP has over 25 years of project management. She is a consultant, trainer on project management for different sectors and is the recipient of "Recognition of Excellence" award from PMI, USA and Woman Volunteer award from Hyderabad, India Chapter of PMI. Sunanda has contributed to the "Practice Standard on Scheduling, PMI". She has worked as the Liaison officer for PMIEF (Education Foundation) for the Hyderabad, India Chapter of PMI.