5

min. read
Are you looking to get a Six Sigma Green Belt Certification? So you must know that Six Sigma is a methodological strategy by which errors in a company's current processes and plans are identified and strategies to rectify the same are formulated. It is a fact-based technique, involving a lot of data handling, which provides scientific results for cost-cutting and reduction in waste of resources. It enables an individual to execute this methodical strategy.
---
Attend our 100% Online & Self-Paced Free Six Sigma Training.


---
Today, many organizations, large and small scale, are applying Six Sigma to ensure improved, faster and cheaper services to their consumers without compromising on the quality quotient.
Implementation of Six Sigma requires professionals who have been trained in the program and have had exposure to practically applying the concepts in different organizations across industries to know how to go about its application on the job. Generally, the first step here is Six Sigma Green Belt certification.
Six Sigma Green Belt Certification Training
Six Sigma Green Belt certification training or Lean training course normally revolves around D-M-A-I-C framework. You can learn the basics of Lean Six Sigma and Lean Six Sigma Green Belt Certification with the help of a free Lean Six Sigma course. The list of topics across D-M-A-I-C framework, that are normally covered in Six Sigma Green Belt training are as follows:
Change Management
Project charter, Voice Of the Customer (VOC) to Critical-To-Quality (CTQ), KANO Model, SIPOC diagram
Process capability, Segmentation and Stratification, Sampling strategy
Measurement System Analysis
Box Plot, Rolled Throughput Yield (RTY), Process Map
Pareto, Concept of LEAN, Hypothesis Testing
Correlation, Mistake-proofing, FMEA
Process Management Charts, Statistical Process Control (SPC)
Fishbone Diagram, Data Collection Plan (DCP), Normality study
Run Chart, Control Chart, Regression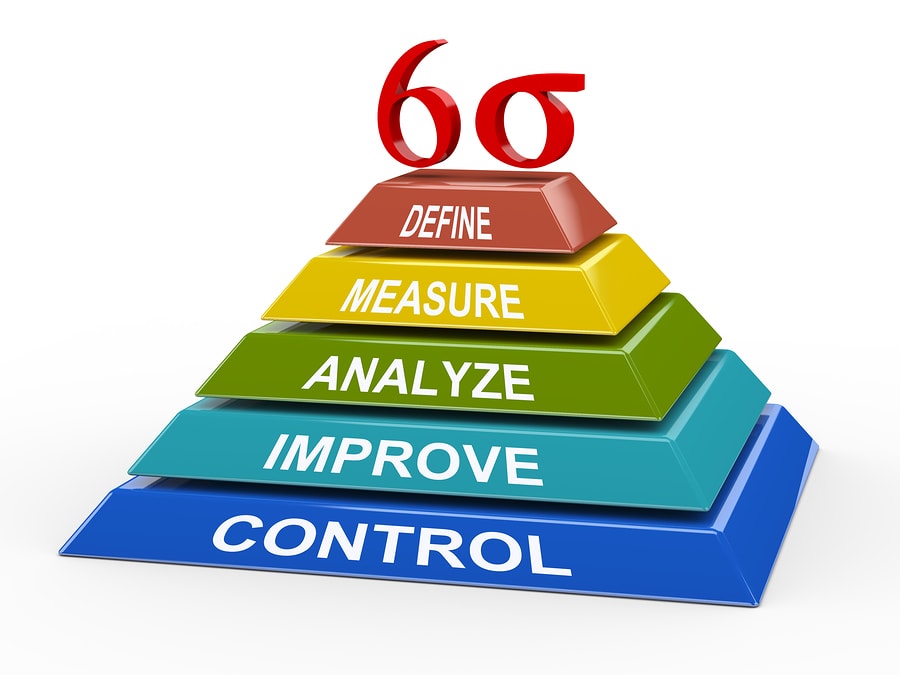 Normally, Master Black Belts are responsible for imparting knowledge to help Green Belt level and Black Belt level learners in improvising on their projects. Master Black Belts apply their skills in an organization by coaching other employees and helping them achieve the Six Sigma Green Belt Certification and Six Sigma Black Belt certification without the company having to spend on training separately.
Check our Six Sigma Training Video
3 Qualities For Getting The Six Sigma Green Belt
For the purpose of acquiring the certification, aspirants must;
Spend at least 30% to 40% of their production time on process improvement initiatives or activities
Be able to solve quality related issues
Work on Six Sigma, LEAN, KAIZEN or other quality improvement projects

American Society for Quality (ASQ) and International Association for Six Sigma Certification (IASSC) are globally recognized leaders in offering Six Sigma Green Belt certification. As a professional association, ASQ or IASSC helps advance the professional development, credentials, knowledge and information services, membership community, and advocacy on behalf of its more than 2,00,000+ members worldwide.
Job Role Post Six Sigma Green Belt Certification
According to the potential of the participant, the certification offers the following roles post the completion of the course:
Six Sigma Green Belt – Project Originator
Six Sigma Green Belt – Project Leader
Six Sigma champion in local area
The nature of duties & responsibilities, post Six Sigma Green Belt certification, may take the following form:
Lead 'Six Sigma improvement' project's team
Analyze and solves quality problems
Participate in an improvement project
Validate the measurement system
Work on projects within own functional area; on a part-time basis
Improve team facilitation skills
Developing Project charter and SIPOC (Supplier, Input, Process a, d Output) diagram for their project
Professionals carrying Six Sigma Green Belt certification will be able to apply learned tools, in an improvement framework like D-M-A-I-C, to everyday work problems. They will also be able to assist Six Sigma Black Belts in Six Sigma teams. They will also work on improvement projects, on a part-time basis, to provide a measurable improvement to the enterprise.
Candidates that have a thorough knowledge of the Six Sigma method and procedure at the Green Belt level have a distinct advantage when searching for a career. Hiring managers do not only look for the title of Six Sigma Green Belt certification. They always seek candidates carrying the knowledge and practical expertise in Six Sigma methodology. Typical jobs include Compliance structural engineer, lead manufacturing engineer, operating systems specialist, business process analyst, project engineer, and senior IT project manager.

General Course Outline
This is the general outline of a course:
Statistical and other analytical methods for identifying and understanding sources of variation
History of Six Sigma
Problem solving
Basic statistics and displays of data
Process mapping and measurement techniques
Six Sigma tools and techniques
DMAIC process improvement roadmap
How to establish customer requirements
How to measure and quantify process performance
Six Sigma Green Belt Certification Program – Phase Description
The course consists of 5 phases:
The DEFINE Phase of the DMAIC framework is constructed to introduce the fundamentals of Lean and Six Sigma
The MEASURE Phase of the DMAIC framework is constructed to introduce important Lean Six Sigma tools for characterizing your business issues
The ANALYZE Phase of the DMAIC framework is constructed to introduce important Lean Six Sigma tools for isolating critical factors
The IMPROVE Phase of the DMAIC framework is constructed to introduce important Lean Six Sigma tools for properly controlling solutions
The CONTROL Phase of the DMAIC framework is constructed to introduce important Lean Six Sigma tools for properly controlling solutions
11 Objectives of Learning
During Six Sigma Green Belt certification course, participants will be able to develop:
Understanding of the concepts, implementation & objectives of Six Sigma
Ability to use a structured approach to process improvement
Ability to use DMAIC (Define, Measure, Analyze, Implement and Control) methodology
Skill to predict, prevent and control defects in a process
Understanding of the elements of waste
Skills to achieve sustainable quality improvement through process improvement
Understanding of the tools of process discovery
Understanding of variation in processes
Skills to reduce variation in processes and achieve predicted outcomes
Ability to identify, measure and analyze process potential
Usage of inferential statistics
Usage of hypothesis testing
Understanding when to use which Six Sigma methodology
Ability to use Capability Analysis to control processes
Knowledge of the interdependence of Lean tools
Skills to prevent, identify and control defects
Understanding and use of statistical process control
Skills to train, document, monitor, respond and align systems
Author: Nilesh Bhanushali


What is PMP
Review by: John Smith
5 / 5 stars