13

min. read
How much does ITIL certification cost? How much should I invest for ITIL Certification? Is the ITIL certification cost worth the returns? We all need answers to these questions before we take the plunge into ITIL Foundation Exam, don't we?
---
Hint: Please check our "How can I Pass the ITIL Exam in 1st Attempt" post after this one as well. Click on link and it will open in a new tab so you won't lose this page 😉
---
What are the Components in ITIL Certification Cost?

You definitely will have the ITIL Foundation Exam cost in the ITIL certification cost. If you are planning to take ITIL course to prepare for the ITIL Exam, you need to add that to the ITIL certification cost.
---
After helping over 200,000 professionals in more than 180 countries with a 99.6% first attempt pass rate, we have prepared a ITIL study plan. Read this ITIL study plan and create your own ITIL prep plan accordingly.
---
What other cost components are included in ITIL certification cost?
Let us explore the additional or alternative cost components in the ITIL certification cost.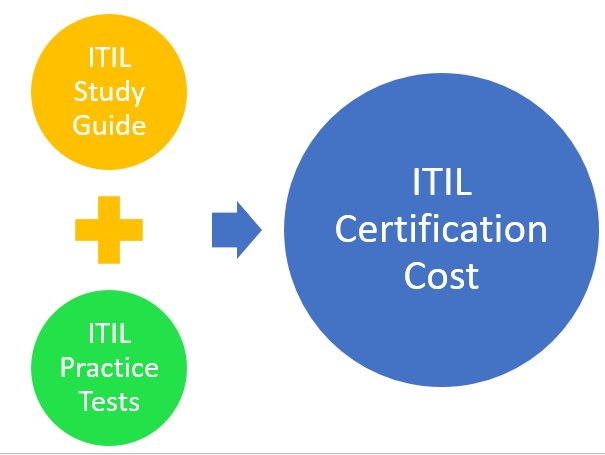 ITIL Study Guide
Are you planning to buy an ITIL Study Guide? If you have not factored the cost of an ITIL course, you may want to do self-study using a study guide. For ITIL 4 Foundation, attending ITIL training is not mandatory. Hence, add the cost related to self-study to the ITIL certification cost. A popular paperback edition may cost you over $30 while again a soft copy may bring down your ITIL Certification Cost.
ITIL Practice Tests
If you want to get certified in the first attempt, you need to have a rock solid preparation plan. What do you need to include in your study plan or preparation plan?
Some of the professional ITIL Certification exam websites offer their practice tests for about $25-50. But, there are also many free practice tests for ITIL 4 Foundation exam available online.
Therefore, you can try bringing down your ITIL Certification Cost by trying out some popular ITIL Free practice tests that are full-length. You may need this if you have not attended the ITIL course from an ITIL Training provider. As already mentioned, you may get access to Full-length practices tests from the training provider.
ITIL Study Plan
For a failsafe method, you need to adopt the PDCA Cycle or Plan- Do-Check-Act method in your preparation. What is PDCA method for ITIL preparation?
Plan: You create a study plan with one complete round of reading the ITIL life cycle, answer ITIL Foundation exam questions and take full-length ITIL practice tests.
Do: Implement the plan. What does this involve? Put the plan into action.
Check: Review your scores and assess the areas for improvement.
Act: What will you do after you spot what topics to improve? Of course, improve it. This means, revise, take the test, review until you are getting to your target score.
Therefore, if you did not have any ITIL tests to practice, you may need to buy them from the ITIL Certification Cost.
Other ITIL Resources
You always need to add some buffer or contingency factor to take care of risks. You may feel jittery after you have scheduled the exam and may want to take some more tests. Or, a quick revision of concepts with some mind maps, process diagrams, flash cards, etc.
Let us see what all could form the ITIL certification cost. Whether you opt for an ITIL course or self-study, these are all the ITIL certification cost components to consider.

Therefore, before choosing an ITIL training provider, you need to assess many of these aspects. We will come to the selection of an ITIL training provider in a bit.
How much does ITIL Certification Cost?
The reason why we went into the components is to let you know that there is no one fixed cost for the ITIL Exam. ITIL Certification cost depends on many factors:
One is the components in the ITIL certification cost
What mode of the exam are you planning to take?
Which country are you in?
ITIL Certification Cost and Mode of Exam
What do we mean by mode of the exam? If you look up the Axelos website, you may see that you can take a paper based or online exam.
By the way, wondering what this Axelos is?
Axelos- is a Joint venture of Capita and UK Government. Axelos owns the copyright and intellectual property rights related to ITIL from 2013 onward.
In addition, it suggests that you can take ITIL training from an Accredited Training Organization (ATO) and ITIL Foundation Exam at the end of it. You can also study by yourself without a training from ATO and sit for the exam from an ITIL Examination Institute.
Moreover, Axelos has given the complete responsibility of processing applications and conducting ITIL exam to its ATOs.

But, the options we are discussing are as follows.
Online Proctored Exam
You don't need to go anywhere to take the ITIL Foundation Exam. If your career does not permit you to go to a test center or attend an ATO, this is a God sent opportunity or Axelos given the opportunity.
What is an Online Proctored exam?
Do you have a computer with webcam and internet access? Then, you are almost there. You can sign up for an online exam from the convenience of your home/laptop anytime. Most providers offer this option where you will be proctored when you are taking the exam. Especially when you are on a service desk or shift rotation job, this would be a handy option!
Exam from an ATO
Typically, ATOs conduct the exam after their ITIL course is complete. Therefore, choose a good ATO and then exam comes as part of the ITIL training.
Exam from a Prometric center
You can schedule your exam at a Pearson VUE Prometric center that is close to you. Whether you attend training from an ATO or do a self-study, you can go for this option. Pearson VUE has stated that from 2018 onward, you cannot take ITIL Foundation exam from their center. Therefore, if you are planning to take ITIL Exam from Pearson, you may need to buck up!
Now, coming back to ITIL certification cost.
Would you prefer to take the online training or a classroom training?  The cost varies based on this in addition to the geographical location if it is a classroom session though.
Online ITIL Training
You get the flexibility of learning from anywhere, anytime and at your pace from online ITIL course that explains the ITIL Framework. What more can you ask for?
Actually, you get a little more without even asking for in online ITIL course. What are the other benefits of online ITIL course?

ITIL Certification Online
ITIL Certification cost with online options is much lower than a classroom mode. How much? What are the prices?
On an average, it may cost $275 while it may also be available for much lower or higher depending on which country you are in. In the UK it could be an average of £200.00 while in India it could average at Rs.15000.
A classroom session could be around $2000 too in some places.
If you are looking for low ITIL Certification cost, you can even go for a monthly subscription in online mode. These could come at as low as under $50 per month.

Your question- can I finish in one month? It all depends on what drives you? If you work well under tight timelines and a specific deadline motivates you, this is definitely for you.
Also, you can reduce your overall ITIL Certification cost
What resources would I be getting in an online mode?
You may get access to recorded video sessions that could be around 2 days or 14-16 hours
A certificate of the course completion
If you are already a PMP, you can get about 14-16 PDUs (Professional Development Units) that help maintain your PMP Certification.
Some training providers give you a money back guarantee. Of course, conditions will apply and always check the fine print before you jump in.
Handouts that you can download and handy when preparing for ITIL Exam.
Some of the providers give support for your queries after the sessions.
Selecting an ITIL Training Provider
Now that you have seen the various options available for ITIL Foundation Exam, you can choose how you want to take it.
The next question is, though it is not mandatory to attend an ITIL Training, it is good to attend one because:
You will have experienced faculty
Authentic source so that you are geared up for the current version of ITIL 4 Foundation
You get the ITIL Bundle of training plus exam. Many training providers (ATO) do that. So why lose the opportunity of a lower ITIL Certification cost?
Tips and Tricks and support from the institute.
Now, if you are sold on the idea of going for an ITIL course, the next question is: How do I know which is better? Any guidelines to decide?
Here are a few pointers to help you take a call on the training provider:
What is the experience level of the instructor? What are the testimonials from the past participants?
Does the ITIL Certification Cost include the exam fee?
What resources are provided by the training provider?

How long is the access provided to the e-learning resources?
Are there full-length mock ITIL certification exams available for you to practice? Remember, these could add to your ITIL Certification Cost if not given.
Will you be given a study plan and a Study Guide as these are included as components of ITIL Certification Cost?
I am sure you would not want to increase your ITIL Certification Cost! Isn't ITIL all about cost reduction and efficiency improvement? Why not start applying these ITIL principles for selection too?
Any quiz provided at the end of each topic?
Can you interact online with other participants to discuss on the ITIL Foundation Exam topics?
What kind of support would be given by the institute after you sign up for the course?

What does ITIL Foundation Exam comprise of?
ITIL exam has 40 multiple choice questions to be answered in 1 hour
If you score at least 65% or 25 questions correct, you become ITIL Certified at Foundation level
What should you be knowing for ITIL Foundation level?
Essentially you need to understand the ITIL Framework and the concepts of ITIL Service Lifecycle. Now that is very broad and generic. So, let us explore what topics you need to know and at what level?
ITIL Service Life Cycle
ITIL Service Life cycle covers the end to end processes and functions to be followed for increased efficiency and reduced cost in ITIL Service Management and Delivery. The life cycle is always from the start to the end. The five core volumes or stages in ITIL Life cycle are as follows.

Service Strategy
Service Design
Service Transition
Service Operations
Continual Service Improvement
Strategy or long term actions needed to ensure your IT services are in line with the Business process so that the IT service add value to the business. This dealt in ITIL Service Strategy. Weighing ITIL Certification Cost and its benefits to decide is also a form of strategy
| | | | | |
| --- | --- | --- | --- | --- |
| Service Strategy | Service Design | Service Transition | Service Operation | Continual Service Improvement |
| Strategy management for IT Services | Design coordination | Transition planning and support | Access Management | Service Review |
| Service portfolio management | Service catalog management | Change management | Problem Management | Process Evaluation |
| Financial management for IT services | Service-level management | Service asset and configuration management | Event Management | Definition of CSI Initiatives |
| Demand management | Availability management | Release and deployment management | Request Fulfillment | Monitoring of CSI Initiatives |
| Business relationship management | Capacity management | Service validation and testing | Incident Management |   |
| Strategy management for IT Services | IT service continuity management | Change evaluation | Functions |   |
| Service portfolio management | Security management |   | Service Desk |   |
| | |   | Application Management |   |
| | |   | Technical Management |   |
| | |   | IT Operations Management |   |
For the ITIL Foundation exam, you need to be aware of in addition to having a comprehension on some of the areas. You need to have the high degree of understanding of what it is and how it works (Comprehension) for some of the processes, functions, principles, roles, models, etc. But not all are at this level.
For some, awareness is enough. What this means is, if you know that they exist and what their function is, you are prepared for the ITIL 4 Foundation certification. Therefore, for the ITIL Certification Cost you put in, make sure you have the awareness and comprehension.
Let us see what you need to know in depth:
At least for the above topics, make sure that you get money's worth for the ITIL Certification Cost you are putting in.
These are what you need to have awareness of. Therefore, for the ITIL Certification Cost, are you getting awareness on these topics?
Generic concepts and definitions
Selected processes
Selected functions
Selected roles
Technology and architecture
Competence and training
How much will you earn? What is the ROI of ITIL Certification Cost?
You have seen the aspects of ITIL Certification cost. Now you would obviously want to know how much you may earn after getting the ITIL certification. All of us want to know what is the Return on Investment (ROI) ofITIL Certification cost?
Let us explore the average salary quoted from various sources for different roles and in different locations to understand if ITIL Certification cost is justified…
If you are planning for IT Operations and Help Desk, as a Systems Administrator, you may earn an average annual salary of $75,436. As an Incident manager, you may get $80,357 per year. These are reported for the USA.
If you are in India, you could get anywhere between Rs 3,00,639 – Rs 10,31,603 as an Incident Manager. While in Australia, you could get AU$58,305 – AU$128,276 as an Information Technology (IT) Consultant.  An IT Manager in the United Kingdom would earn £29,844 – £66,430. Now you have a basis for assessing ITIL Certification Cost against benefits.
Benefits of ITIL Certification Cost
By investing in ITIL certification cost, you gain systematic knowledge of IT Service Management
Another advantage of the ITIL Certification cost is you have better chances of job prospects
Moreover, you get a professional global recognition for the ITIL Certification cost you spent
You would know the best practices and hence sought after in your organization. Is that not a good reason to incur the ITIL Certification cost?
The ITIL Certification cost is the first step to a great career path
In addition to these, with this ITIL Certification cost, you get credits that help in the higher level ITIL certification such as ITIL Intermediate, ITIL Expert, and ITIL Master. You could also think of ITIL practitioner after you clear the ITIL Foundation for this ITIL Certification cost.
As you can see, the salary anywhere is something that would motivate you to take the ITIL Foundation Exam and be certified. Compared to the salary, ITIL Certification Cost is minimal and worth it.
ITIL Certification Cost would be offset by the increase in salary. The other key point for investing in the ITIL Certification Cost is it opens the gateway for a career path that is evergreen and flourishing.

Author Biography:

Sunanda Gundavajhala, B.Tech, M.B.A, PMP has over 25 years of project management. She is a consultant, trainer on project management for different sectors and is the recipient of "Recognition of Excellence" award from PMI, USA and Woman Volunteer award from Hyderabad, India Chapter of PMI. She has contributed to the "Practice Standard on Scheduling, PMI" and also worked as the Liaison officer for PMIEF (Education Foundation) for the Hyderabad, India Chapter of PMI
ITIL Certification Cost
Review by: Maurice Burns
5 / 5 stars