14

min. read
PMO Managers, Directors, or Project Management Officers are the head of the project delivery departments of organizations. PMO Managers are accountable for leading Project Managers, ensuring project management practices, governance, and delivery of successful projects. There are several factors affecting PMO manager salaries such as industry, organization, level of experience, and skills of the PMO executive. We have explored the PMO manager salary in detail.
The average PMO Manager Salary is $218,000 in the US.
PMO Manager Salary in the IT, Pharma, and Defense industry are higher than in other industries.
Skills, years of experience, success stories, the urgency of skilled managers in the organization, and many other factors can affect the PMO manager's salary.
Let's explore the factors affecting PMO Manager Salary now.
PMO Manager Salary
When the seniority level increases, the salary, and compensation should increase. This varies depending on the industry and the company. It is the same for PMO Directors/Officers as well. The average Project Management Officer salary in the United States is $218,000, but the range typically falls between $193,000 and $248,500.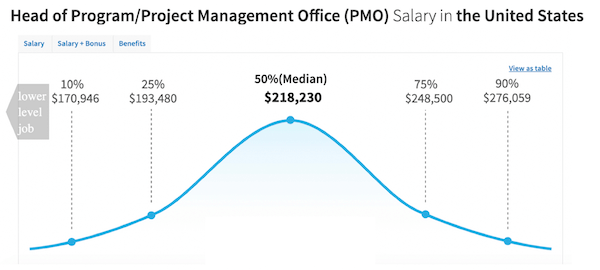 Source: Salary.com
Salary ranges can vary widely depending on many important factors. These include education, certifications, additional skills, and the number of years you have spent in your profession. For instance, if a PMO manager or an executive has extensive proven experience in successfully managing enterprise-level project schedule delays or project cost overruns, this will affect the PMO Manager salary respectively. We will be exploring these topics one-by-one in the next section.
PMO Manager Salary by Industry
In certain industries, such as IT, Defense, and Pharma, the PMO manager salary is higher than the average. If you look at the PMO manager jobs in the Finance industry, you will find out that a whopping salary of up to $229,000 is being offered to the PMO manager. IT industries also pay very high salaries to the PMO manager. Research showed that IT industries are willing to pay up to $204,000 to the PMO manager.
Similarly, Pharmaceutical companies are paying up to $194,000 to the PMO manager. Although the projects managed in the food production industries may not be very technical or critical, the salary of the PMO is very high as well. A PMO manager in a food production organization can easily secure a job with a salary of up to $200,000. The defense sector is also among the high-paying salary industries for a PMO manager. There are jobs in the Defense sector also that pay up to $196,000 a year to the PMO manager.
We have mentioned only some of the industries that pay high salaries to the PMO manager. There are also many more industries where a PMO manager can earn a similar salary. Due to the increasing demand for establishing a Project Management Office and a PMO manager who runs this department, more and more jobs are being listed daily for PMO managers. PMO managers have significant responsibilities for the organization and the projects that are being managed by other Project Managers. That is, they have to provide guidance and ensure the successful completion of the projects within the organization. Due to the critical responsibilities that PMO managers perform, they are paid a higher salary than the other project roles.
Other Factors Affecting PMO Salary by Industry
Furthermore, studies have shown that a PMO manager working on high-end projects that typically exceed the $10 million mark earns a staggering 40% more salary than the median salary. Furthermore, year after year, these salary figures are also expected to grow. As the demand for project managers is increasing, so are the salaries for these roles.
Sometimes, organizations look for a PMO manager for a short-time consultative role. During this engagement as a consultant PMO manager, you may be setting up project management methodologies, policies, and processes that need to be implemented by the project team. Or you may directly manage the project from its planning to closing. In these short-term roles, you can expect to earn an even higher salary. The reason for this is that people tend not to take on temporary jobs because changing jobs isn't easy. It is not easy to find a new job quickly and often. Organizations know this fact and therefore, they offer a much higher salary for short-term roles, than what they offer to long-term employees.
Years of Experience Effect on PMO Manager Salary
How many years a PMO manager has spent managing or leading prior projects has a significant role in an employee's salary. Although there are other factors that help determine the PMO manager salary such as their qualifications, skills, etc., years of working experience is one of the factors that have a direct effect on the PMO manager salary.
Normally, you can apply for a PMO manager role when you already had many years of direct work experience. Furthermore, for the PMO manager role, you will be required to have a managerial experience in recent years. Often, organizations want their managers to have 10 to 15 years of experience, with 5 or more years of experience working as a project manager. For small projects, however, lesser years of experience are also acceptable. This requirement will obviously vary, depending on the industry or projects you will be hired to manage.
PMO managers will also need to have earned certain certifications and received training or skill-building activities to apply for a higher job position. This is obviously a difficult endeavor. However, once you have built your skills, and spent years improving your technical and management experience, then it will not be difficult to be hired in a PMO manager role and be offered a very high salary.
Higher Roles Mean Higher Salaries
Often, the employees are promoted to higher positions after a few years of working in the organization. When they are promoted, they are not only offered a higher position but a higher salary. The same goes for the PMO manager. Once you are working in an organization as a PMO manager, after a few years, you can expect to be promoted to a position of a senior PMO manager or PMO director. And when you get on to the higher role, your salary will be higher than what you were earning before.
Hence, in jobs, every additional year of experience matters. The more years of experience you have, the higher your PMO manager salary will be.
Skills or Certifications
A PMO Manager or Executive must have solid project management experience and soft skills to manage a Project Management Office. For example, they could be holding a PMP certification and have excellent interpersonal skills and servant leadership characteristics. These are some of the essential skills that every PMO manager should have.
Learn more about Master of Project Academy's Leadership Program where your leaders will get instructive and hands-on training through interactive exercises, case studies, templates, and techniques that can be customized to your organization's specific needs.
Since the manager would be working in a Project Management Office, they would be required to have a wide range of skills. These will be necessary in order to make the PMO successful. More specifically, the PMO manager should be able to work with a range of individuals on the project, they should know how to develop good relationships with the stakeholders, set up and track control procedures, and identify and manage risks. They would even be involved in financial planning, logistic tracking, and some administrative tasks.
The Type of the Project Defines the Required Skills
The level of skills that PMO managers are required to have also varies depending on the type of Project Management Office they are working in. For example, if they are in a Directive PMO, they would need to insert professionalism into the project. They would do it by implementing the best methodologies and standardizing processes. Their aim will be to ultimately improve the quality of the project and its deliverables. Hence, their skills will play a very important role in delivering a successful project.
The controlling PMO would be supporting the organization in adopting the methodologies. The PMO would require conformance to governance and standards. So, here the PMO manager will need specific interpersonal skills in order to make the project teams successfully adopt the instructions and conform to the requirements.
A PMO manager in the supporting PMO would need to be technical enough in order to train the team and provide technical support. They would also need to provide day-to-day project management. Hence, they will be able to do all that and more if they have technical as well as project management skills. Having a PMP certification would also help them in making their PMO successful.
Master of Project Academy has trained many Project managers who are part of the PMO in their organization or they are aspiring to change their current position and apply to a higher job role of a PMO Manager. Attending the PMP (Project Management Professional) certification course will help you gain the technical, leadership, and business skills that would differentiate you from other Project Managers who are applying for the PMO Manager job position.
Check out Master of Project Academy's offerings for PMP Certification training:
Why a PMO Manager Needs to Have All These Skills?
Why a PMO manager would need to have all these skills, you may wonder? And why is it really necessary to have different interpersonal and technical skills? Well, a project that is managed by well-experienced and competent resources will not bring problems to the management. However, some projects, due to different issues and circumstances could be difficult to manage. The PMO manager must be competent enough to deal with all these issues efficiently. They can only competently manage the project difficulties, threats, and challenges if they have adequate skills to deal with them.
Projects are complex endeavors. Sometimes you need to manage competing requirements or resolve conflicts between people. You have to deal with all of those issues efficiently and effectively. If you don't, you may probably face cost overruns, schedule delays, reputation loss, etc.
The PMO managers must learn the required skills if they want to be successful in their endeavors. They should also practice those skills every day. In projects, there are hundreds of opportunities that PMO managers should seek to develop or nourish their skills. Once PMO managers start to apply their skills, they will notice that these have become their project management strengths.
Success Stories and Vertical/Niche Experience
The number of managed projects or the number of successfully delivered projects can affect the PMO manager's salary. In some cases, an organization looking for a PMO manager might require vertical/niche expertise on a particular topic. If the candidate for the PMO manager position has that particular work experience, the organization will be ready to pay a premium for that candidate.
Having said this, if you have been working as a project manager and want to secure a job position with an even higher salary, you must take the extra mile to stand out among others. That means you will need to showcase the projects that you have worked on and completed successfully, utilizing project management standards and best practices. PMO managers who have completed ten or more projects in their work history could expect a higher salary than the ones who have completed fewer projects.
Why Sometimes There is a Need for a Degree in a Specific Subject?
Some organizations require the prospective project manager to have a degree in a specific field. For example, if you are applying for the PMO manager position in the telecom industry, you may be expected to hold an IT degree. Similarly, the construction industry would expect their PMO manager to be a civil engineer. With the relevant degree and the required project management skills, combined with the niche experience, you can expect to secure a job with a higher salary.
There are other similar qualifications an organization can look for in a PMO manager. For example, if you're being hired on a railway construction project, you may be expected to possess experience on similar projects. A manager for road projects may be required to have road project experience specifically. There are some other factors that could be important such as the size of the project, the number of projects you worked on, the project budget, complexity, and the duration.
So, these qualifications will matter a lot. An organization may look for these things when determining the salary for their PMO manager.
The Urgency in the Organization
If an organization is looking for an urgent replacement or fulfillment, the budget for finding relevant candidates will be more flexible. In these cases, the organizations tend to pay up to 20% higher salaries than the market average to fulfill the job vacancy.
Often organizations need to hire a new resource urgently and this could be due to many reasons. For example, due to rapidly changing markets, regulatory requirements, or sudden customer demand. Or perhaps there was an urgent need to assign more managers to a project. Or maybe there was a need on the project or a specific request from a stakeholder. There could be many situations where you have an urgency to hire a new resource urgently. The organizations then are willing to allocate more money for the PMO manager salary so that they could appeal to the new resource and hire them quickly.
Summary
There are many factors that determine the PMO manager salary. As we explained above, the years of experience you have, the skillset that you possess, and the certifications you hold are some of the things that matter a lot when applying for this lucrative job position.
In the competitive job market nowadays, organizations look at all these factors when determining the PMO manager salary. Every organization has its own management requirements. Hence, it has become very important to have versatile experience and skillsets in order to meet the organization's job requirements and get on the shortlist for the job interview.
There are a number of professional certifications that you can consider if you want to stand out among job applicants. In the recent few years, there has been an increasing trend of getting multiple certifications. If you talk with your colleagues or friends, you will find out that many of them are holding at least one or two professional certifications. It is because people nowadays are aware that to win a good job, they must have several credential titles added to their name.
The role of a PMO manager is not easy. They must handle and steer projects to achieve the project goals and objectives. And they are accountable to the project sponsor, the client, and other key stakeholders. However, with increased responsibilities comes also the increased salary.
Conclusion: PMO Manager Salary
With an annual increase rate of 12%, the demand for project management and project managers is growing worldwide. If you have been practicing project management and desire to move forward to a higher position, then you can become a PMO manager. And the PMO manager salary can be very attractive. But to achieve this, you need to possess the relevant skills, experience, and certifications to win this dream role.
At Master of Project Academy, we offer different types of project management training courses that are tailored to satisfy the needs of project management professionals with varying levels of experience and skills.
Our most advanced training course, PMP (Project Management Professional) is a certification prep course for experienced project managers who want to advance in their careers and earn the globally recognized PMP certification which is considered a gold standard of excellence in Project Management. As an experienced Project Manager, with a desire to advance to the PMO Manager role, you might consider attending our PMP certification training course as it will help you stand out from other potential candidates and provide that needed boost to secure the highly recognized role of a PMO Manager.

Master of Project Academy has also trained many heads of PMOs, employees who are part of PMOs, or employees who were tasked to establish their respective PMOs. They have attended our PMP certification training courses that provided the participants with the needed knowledge and understanding of the principles and the standards of good project management.
All our courses are taught by our experienced project management instructors who present the project management concepts using real-life examples, case studies, and scenarios from their extensive practical project management experience.

Unlock the undiscovered project delivery competence of your organization.

We've helped 200,000+ professionals enrolled from 100+ organizations including these reputable organizations.

We can enhance your organization's competence too! View our corporate services and training.