8

min. read
Organizations initiate and execute projects for different reasons. Launching a new product, improving a process, legal requirements, and many other reasons can be the reason for initiating projects in an organization. In a medium to large organization, Project Management Office, also known as PMO, is the brain of the organization to lead, manage, and control project delivery. In large organizations, the Project Management Officer is the leader of the PMO.
Project Management Officer:
Leads the project management office in an organization
Must have several years of project management experience
Earns on average of ~218K but can earn up to $280K depending on the company and industry
We will go over the Project Management Officer in detail throughout this post.
Project Management Officer
Depending on the culture, size, and industry of the company, the Project Management Office structure varies. There are three types of PMO structures and depending on the type of the PMO, the Project Management Officer roles and functions differ. Let's go through the different PMO structures first.
1. Supportive Project Management Office:
Supportive PMO supplies templates, best practices, training, lessons learned documentation, etc. to the other departments and projects. This type of PMO actually acts as a repository of the company. This PMO structure is like an archive of the company and gives information and documentation when necessary, but it does not have solid control over projects. These types of PMOs generally report to another functional manager such as an Engineering Manager, IT manager, etc.
2. Controlling Project Management Office:
Controlling PMO supports and requires compliance with tools and methods. They check whether required documents are submitted in a project, or relevant steps are executed based on the processes, etc. This type of PMO has a moderate degree of control in projects. This type of Project Management Offices is managed by PMO Managers, or PMO leads but typically, they are not so powerful in the organization.
3. Directive Project Management Office:
Directive PMO manages the projects and it is only accountable for the success of projects. They are relevant to the company and have a strong position in the company. Directive PMO has the highest degree of control among other types of PMO. This type of PMO is managed by PMO Directors or Project Management Officers and the PMO leads are powerful stakeholders in the organization.
Project Management Officer Job Description
Depending on the industry and company, the Project Management Officer job description varies. Typically, Project Management Officers are at the director (senior) level in an organization. They manage several Project Managers, Project Assistants, Program and Portfolio Managers, Project Specialists, and other project management professionals in the organization. If the organization is big and has more than 20 project managers, there might be several PMOs and PMO managers managing each PMO as well. In that case, the Project Management Officer is the head of the PMO managers. You can read our project cost overruns post to learn more about the role of Project Management Officers in supporting the project's success.
For instance, consider a Fortune 500 technology company. There will be thousands of employees and hundreds of project managers in the organization. Respectively, there will be several project management offices in different locations that are focusing on different areas. E.g. R&D PMO can be managing the new product or feature development projects while the Delivery PMO is managing the customer integration and implementation projects. The Project Management Officer can lead these two PMOs.
A Good Project Management Officer must have:
Several years of project and program management experience
Excellent written and verbal skills as they will coordinate cross-functional activities in an organization
Experience working with executives from different departments such as Engineering, HR, Sales, etc.
Financial skills and budget management experience
Project Management Officer Role
The Project Management Officer of an organization will be primarily accountable for successful project delivery. The following is a LinkedIn job posting for Project Management Officer. You can see the required qualifications of the candidates.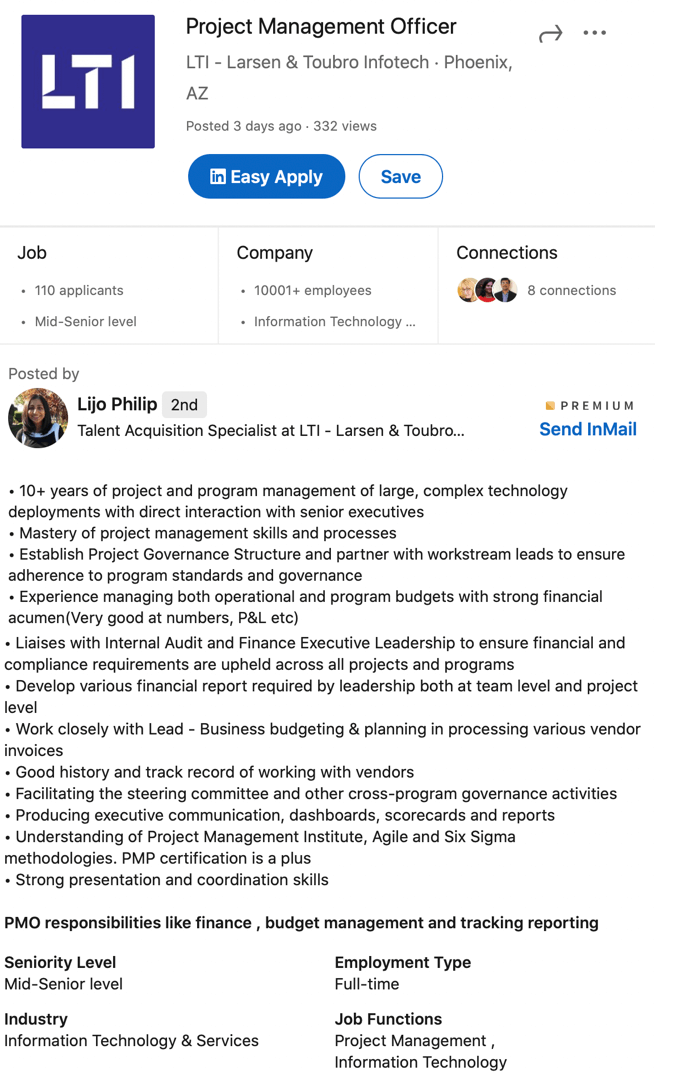 PMO Director/Officer Salary
The salary and the compensation vary when the seniority level increases. The salary range depends on the industry and the type of company. This applies to the PMO Directors as well. The average Project Management Officer salary in the United States is $218,000, but the range typically falls between $193,000 and $248,500.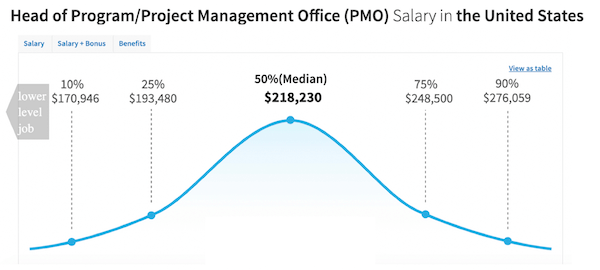 Salary ranges can vary widely depending on many important factors, including education, certifications, additional skills, and the number of years you have spent in your profession.
PMO Director Responsibilities – What Makes a Good Project Management Officer
Project Management Officers are the role models for the project managers in a PMO. Therefore, they must act as a servant leader, facilitate and coach the project managers, and take other roles in the PMO. Typically, PMO Directors have quarterly and annual KPIs that must be met. For instance, completing the projects on budget and on time is the primary objective of a PMO and the performance of the PMO lead will merely depend on these factors.
Completing projects on time and on a budget requires satisfying many internal and external conditions. For example, the project team members should be skilled and competent, the project manager should have relevant experience to manage the project and the environmental factors need to be recognized and supportive of the project execution. However, as a Project Manager Officer, you must ensure that the skilled PMs are acquired and raised in the PMO to maximize project delivery efficiency. That is one of the ultimate goals of a PMO director.
Based on the answers from the participants who attended our corporate training programs, Schedule delays, and incompetent resources are the most common issues in project delivery organizations.
47.2% of the respondents reported that their organizations' projects suffer from schedule delays.
24.5% of the respondents reported that incompetent resources are a project management issue in their organization.

There might be other KPIs that the Project Management Officers need to attain. For example, the PMO will need to cultivate new talent and also keep the project management personnel turnover at a certain acceptable level. On average, adapting a new project management staff to a new organization takes six to nine months. Therefore, PMO leaders must make sure the PMO team is engaged and satisfied.
Learn more about Master of Project Academy's Leadership Program where your leaders will get instructive and hands-on training through interactive exercises, case studies, templates, and techniques that can be customized to your organization's specific needs.
Corporate Training Programs Increase the Project Delivery Efficiency and PM Engagement
If you are a Project Management Officer, you must know what are the motivating agents for your team. Do you know that training project management talents increases their engagement and loyalty to the organization? We've gathered the vital parts of a Forbes' research on corporate training below.
"87% of millennials say professional development or career growth opportunities are very important." (Note: If you have anyone in your team aged 25 to 40, they are Millennials.)
"68% of workers say training and development is the most important workplace policy."
"40% of employees who receive poor job training leave their positions within the first year."
"Every dollar invested in online training results in a $30 increase in productivity.
"Companies that use e-learning technology achieve an 18% boost in employee engagement."
As Master of Project Academy, we've trained 500,000+ project professionals coming from different organizations. Our corporate training case studies with companies from small to Fortune 500 back up the Forbes findings.

We've surveyed the Project Managers who attended our training programs across industries (automotive manufacturer, software company, electric utility company, and government agency).
73.5% of the respondents reported that they feel better after the Master of Project Academy training programs.

The key takeaway for the PMO executives in the Forbes' list is that 84% of global executives ranked employee learning as important or very important.
Summary
Project Management Office is the backbone of the project delivery mechanism in an organization. PMOs have several project management professionals and they are led by PMO managers, directors, or Project Management Officers. If the organization is large and if there are several PMOs, different PMOs might be reporting to one or more Project Management Officers or Directors.
The average salary of a Project Management Officer is $218,000 in the United States. The salary depends on the PMO skills, experience, and certifications, but also on the industry and company. Project Management Officer salary ranges from $170,000 to $280,000.
There are several KPIs and responsibilities of a PMO Director. The primary objective is to ensure that the projects are delivered on time and on budget. To do this, Project Management Officers must focus on acquiring the right skills for the PMO, cultivating existing talents, and reducing employee turnover. It is critical that the PMO works towards increasing employee knowledge and talent by facilitating corporate training programs through the PMO.
Master of Project Academy is proud to have supported many companies to establish and train their Project Management Office employees. A few years ago, MoPA provided Core PM training to an international company (HENRY) with a presence in the US to establish and train their PMO staff. They received customized training on the project management standards and policies that needed to be implemented by all projects across the organization.
Master of Project Academy has also trained many heads of PMOs, employees who are part of PMOs, or employees who were tasked to establish their respective PMOs. They have attended CAPM or PMP certification training courses that were beneficial to them to get the needed knowledge and understanding of the principles and the standards of good project management.
If your employees need to improve their project management competencies, Master of Project Academy offers a large catalog of training courses that will fulfill your needs.
Improve the project management competencies of your organization.

We've helped 200,000+ professionals from over 100 organizations, including these globally recognized organizations.

We can enhance your organization's competence too! View our corporate services and training.