9

min. read
PMI-ACP is one of the most popular agile certifications in the market. PMI-ACP is an agile certification awarded by PMI. There are several PMI-ACP benefits once you earned it.
The Five Most important PMI-ACP benefits you will get are:
In a world shifting to "Agile", you will learn how Agile projects work from start to finish
Organizations look for Agile certified professionals, hence you will get more and better job opportunities.
PMI-ACP is a demanded and reputable certification in the market
You will learn to use the common language of the Agile world
Opportunity to earn a better salary  ~$127K on average in the US

We will be going over the PMI-ACP benefits in detail throughout this post. If you are planning to sit for the PMI-ACP exam, you can read our PMI-ACP exam post.
Why Agile is getting popular?
The way how businesses work has changed in the last few decades. The demand to complete the projects on a tighter budget has increased. Also, as the need for the rapid delivery of products and services has risen, Agile project management is being adopted more and more everywhere. Agile project management focuses on continuous planning, development, and feedback. It results in faster turnaround times and delivery of business value from the beginning of the project. Hence, Agile benefits the organizations as well as the customers.
As Agile project management is being adopted by many organizations worldwide, the need for employers to hire Agile certification holders has also risen. Agile certification helps professionals who deal with Agile tools and practices. And it is a great addition to their professional profile, too.
PMI-ACP Benefits vs What are the most popular Agile certifications?
There are a few organizations that offer Agile certifications. Scrum Alliance is one of them and it offers two important Agile certifications, namely, Certified Scrum Master (CSM) and Certified Scrum Product Owner (CSPO).
Scrum.org also offers two important agile certifications. One is Professional Scrum Master (PSM) and the other one is Professional Scrum Product Owner (PSPO).
Project Management Institute (PMI) also offers an Agile certification, called Agile Certified Professional (ACP). PMI's Agile certification is more credible and most of the professionals choose their certification because of the PMI-ACP benefits which they seek. In this post, we will be talking in detail about these PMI-ACP benefits. You can see our PMI-ACP certification training.
Continue reading this post for details on how PMI-ACP benefits can make a solid difference in your career growth as well as at the workplace when dealing with Agile project tasks.
Do you want to hear what our students say about our PMI-ACP course? You can watch this video!

PMI-ACP Benefits
There are several benefits of having Agile Certified Practitioner certification. We will list the top 5 PMI-ACP benefits here.
1- The world is shifting to "Agile"
Organizations worldwide are shifting to an Agile way of working. The Agile way of project planning and delivering encourages the development team and the client to work closely and in an iterative manner. With the frequent feedback at the end of the iterations, the development team could easily adapt to the changes and ensure the delivery with positive outcomes. The Agile team could more easily predict the project schedule and cost. They have more transparency in the work. They can ensure improved quality, which is one of the greatest benefits of adopting Agile at the workplace.
The waterfall model is still the most popular model. The development and the manufacturing environments are still using the waterfall model. However, at the same time, the project teams feel the need for continuous delivery and faster adaption to changes. That is why they are switching to Agile.
---
Attend our 100% Online & Self-Paced 30-min Free PMI-ACP Training.

---
One of the many PMI-ACP benefits is that you will learn how Agile projects work from start to finish. If you hold the PMI-ACP credential and working in an Agile environment, you will feel confident that you can easily integrate with the Agile practices being used there. Moreover, you would have enough knowledge of Agile tools & techniques and skills that it would be very easy for you to successfully complete the projects. Hence, the PMI-ACP credential will allow you to fill the Agile opportunities in the market and contribute to the Agile way of project delivery.
2- Organizations look for Agile professionals
Due to the increasing need to use Agile practices at work, more and more organizations are now hiring Agile professionals. Whether they are CSMs, CSPO, PSPOs, or PMI-ACPs, they are hiring them to get their projects done successfully. Although the ScrumAlliance and Scrum.org certifications are valuable, having a PMI-ACP certification will stand you out in the crowd. When you are looking for a job, this credential will distinguish you as an effective and trained Agile practitioner.
Organizations have realized the need to implement Agile methodologies to execute projects in a dynamic environment. Hence, it can be said that agile is the need of the hour. And to fulfill the Agile projects' requirements, multiple Agile roles such as Scrum Master, Product Owner, etc. are being hired by the organizations.
According to the VersionOne State of Agile survey, 94% of the respondents said that they were already using Agile methods. From this, we can conclude that organizations do need Agile professionals for their project delivery. The increasing pace of Agile adoption is even making the organizations compete for Agile talent. That is the reason, you will see a lot of jobs these days require an Agile professional to work on the projects.
When it comes to PMI-ACP benefits, organizations understand its worth. They know that the PMI-ACP credential holder is the best fit to work with their Agile project teams. They are aware that an ACP can be trusted to analyze, develop, test, and deliver the product the Agile way. That is why in most Agile jobs, organizations prefer to take expertise from PMI-ACP credential holders.
3- PMI-ACP is a demanded Agile certification
There are several recognized and popular agile certifications like CSM, CSPO, PSM, PSPO, Leading SAFe. However, PMI-ACP is the most popular and most demanded certification. The PMI-ACP benefits are much more and are more meaningful. In all the industries worldwide, PMI credentials are well recognized and PMI-ACP is one of them. The employers prefer to hire professionals who hold the PMI-ACP credential.
Companies often tend to use the blend of Agile methods such as XP, Scrum, Kanban, Lean, DSDM, Crystal Clear, DSDM, and more. They will find all this expertise in a PMI-ACP credential holder. Moreover, PMI-ACP certification also provides more comprehensive coverage of Agile skills, knowledge areas, and tools. These are the essential things, which are needed in an Agile workspace. In addition, PMI is a credible and renowned organization to offer standardization and certifications. Their certification holders easily get extra attention from the employer.
Watch PMI-ACP Certification Training – Two Hours Sample Video
PMI-ACP benefits the credential holders even when they are searching for jobs. PMI-ACP credential holders can secure different job roles. These roles include but not limited to Scrum Master, Agile Coach and Project Manager, Team Lead, or Agile trainer. Since currently there is a shortage of PMI-ACP credential holders, those who are holding this credential can quickly find and secure an Agile job for them.
4- Common language among Agile professionals
If you do not hold an Agile credential or have prior Agile experience, it will be difficult for you to integrate yourself into Agile project communications. Whether it is an Agile daily standup meeting, iteration planning, retrospectives, or Agile project status reporting, if you happen to be involved in any Agile activity, you will face many difficulties. At the minimum, you will find it hard to understand the Agile terminologies being used in project communications.
However, if you have an Agile credential, specifically the PMI-ACP, you will start speaking Agile at your workplace automatically. You will be able to understand the Agile project activities well. So, PMI-ACP benefits you even when you would talk or write at work. Any Agile communications being made at work will be easy for you to understand. You will avoid making errors in interpreting what will be said to you. Moreover, you will be able to talk confidently to your Agile peers or the seniors and understand what they are talking about.
---
Attend our 100% Online & Self-Paced 30-min Free PMI-ACP Training.

---
Speaking a common language is very important. It will help avoid misunderstandings. It will facilitate inter-departmental ties and the smooth execution of the Agile projects.
5- Better salary
One of the other PMI-ACP benefits is that you will get a better salary once you have earned the PMI-ACP certification. Take an example of the role of the Agile Coach. The average salary an Agile Coach receives is $127,000 in the United States. Similarly, a Scrum Master and Product Owner receive a similar salary in the United States. According to a survey, a PMI-ACP gets 28% more salary than a non-certified professional. If we look outside the United States also, the salary of the ACPs is more than the salary of non-certified Agile professionals. Let's take an example of the salary of the Product Owner in Dubai, UAE. The average salary they would receive is equivalent to US$ is 93,000. This is about $11,000 more salary than an IT project manager earns in Dubai.
Considering the fact that the PMI-ACPs receive a better salary in the Agile-oriented organizations, more and more people are getting inclined towards the PMI-ACP certification to get noticed and secure higher salary jobs.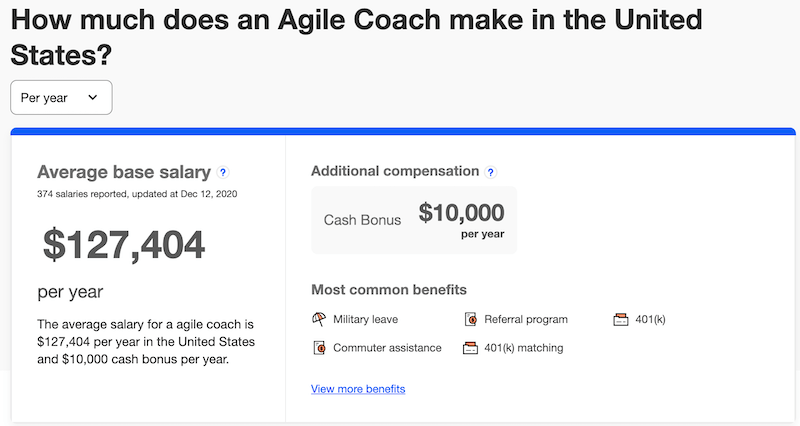 Summary of PMI-ACP Benefits
As more and more organizations worldwide are experiencing the PMI-ACP benefits of Agile project management, the demand for Agile practitioners is increasing. You may have asked questions – what are the PMI-ACP benefits? What are the benefits that can be utilized in the job search or in the Agile workplace?
Well, in this post, we have learned about the 5 PMI-ACP benefits. We learned that the world is shifting to Agile and this is happening fast. So many organizations worldwide, including many of the Fortune 500 companies such as IBM, Microsoft, Cisco, and more use Agile.
We also read in this post that organizations now look more for Agile professionals. This is obviously true since the organizations have now started to use Agile. If they were already using it, they are now moving towards utilizing most or all of the Agile practices at work.
Among the Agile certifications, PMI-ACP is the most popular and most sought after certification. According to a PMI statistic, there are more than thirty-two thousand PMI-ACP credential holders worldwide. And more than two thousand professionals every year are successfully earning this credential.
The PMI-ACP certification covers a large variety of Agile tools, skills, and knowledge areas, as learned above. Also due to the fact that PMI credentials are more recognized and demanded worldwide, PMI-ACP has become a very important certification, especially for IT professionals.
If you plan towards the Agile credential now, you too can enjoy the PMI-ACP benefits in terms of a higher salary, better career opportunities, and more recognition in the job market. If you want to enroll in a PMI-ACP course to start your journey, Master of Project offers a PMI-ACP® Certification Training to help you fully prepare for the PMI-ACP certification exam.