4

min. read
In scope management, the main objective is creating the project scope. The project scope will define what will be delivered throughout the project. The base of the project scope is the stakeholder requirements. There are many tools and techniques to collect requirements. Collecting these requirements is important but there's also another important role of the project manager which is balancing these requirements and resolving competing requirements.
---
Attend our 100% Online & Self-Paced One-Hour Free PMP Training.


---
In the PMP training course, it is told that the management of stakeholder requirements is crucial for the success of a project. In this article, we are going to review how to balance stakeholder requirements and resolve the competing ones.
Why a good management of stakeholder requirements are important for success?
Management of stakeholder requirements is crucial because there will be several requirements from several stakeholders and many of them might compete with each other. As defined in the PMP exam training, a project stakeholder might be anyone who can have a benefit or who may be distracted by project outcomes. There are two types of stakeholders, internal and external. It's important to identify stakeholders and to understand their relative degree of influence on a project. So, especially, when stakeholders requirements are competing with each other, the resolution of the conflict must not make any stakeholder unhappy when his or her requirement is eliminated.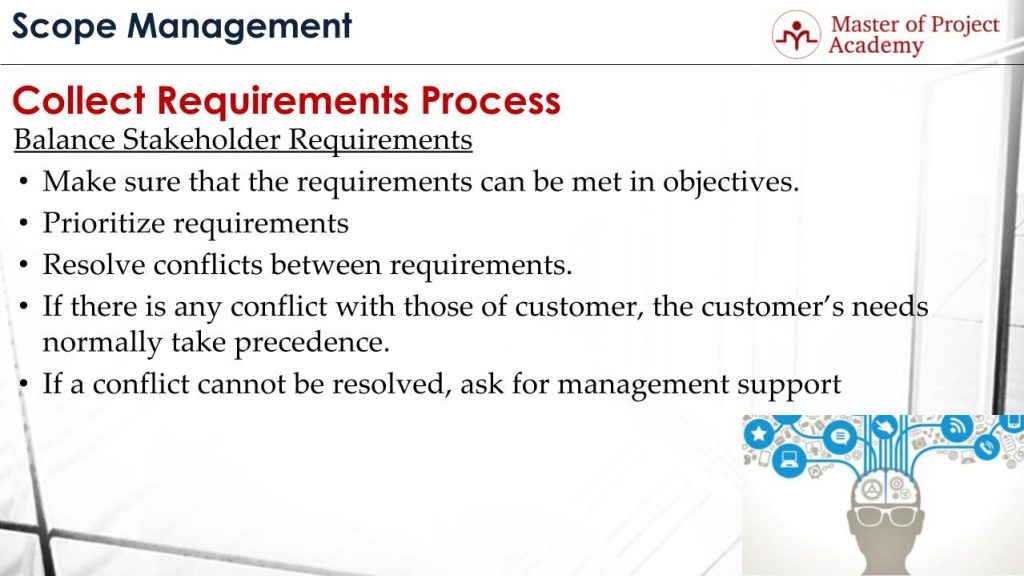 How to balance stakeholder requirements?
Now let's review the methods for balancing stakeholder requirements one by one:
Be sure that stakeholder requirements can be met in the objectives
When balancing these requirements in a project make sure that they can be met in objectives. Objectives of a project define where the project must be headed to. Once the objectives are met, requirements tied to those objectives must be fulfilled respectively.
Prioritize requirements
There will be lots of requirements coming from several stakeholders of a project. All of these must be prioritized and stakeholder requirements with higher priority must be monitored carefully. Because these not meeting high priority requirements can cause even failure of the project.
Resolve conflicts between stakeholder requirements
Let's consider that high-level planning of a project shows that project can be completed in 8 months with a $1,000,000 budget. However, the sponsor of the project might ask to complete the project in 6 months. This brings additional $200,000 cost to the project since additional resources will be outsourced. The sponsor might not accept this additional cost but might push for reducing the project duration. This is actually a conflicting requirement example that needs to be resolved.

Let the customer requirements take precedence
If there is any conflict with those of customer, the customer's needs normally take precedence. Because the end user of the product or outputs of the project is the customer. Therefore, if these requirements are conflicting with the customer requirements, usually the customer's requirement will beat the other one.
Ask for Management Support
If a conflict cannot be resolved, ask for management support. In some cases, requirements of powerful stakeholders might compete with each other. For instance, for a marketing feature development project in an IT company, Chief Marketing Officer can ask for the project to be completed in 6 months. But the Chief Technical Officer can say that they can complete the project in 9 months due to technical and resource constraints. If you cannot resolve this conflict between these two powerful stakeholders, you can ask the support of your management.
How to resolve competing stakeholder requirements?
Competing stakeholder requirements must be resolved smoothly. If resolving a requirement conflict will make any side unhappy, this might bring a risk to your project. An unhappy stakeholder might not support the project or he can underperform when you need his support in the project. Therefore the Project Manager should resolve competing stakeholder requirements by accepting those which most match to these aspects of the project stated below.

Project Charter: Project charter includes the high-level project scope, risks, requirements and information about the project.
Project Scope Statement:

Project Scope Statement describes what will be done during the project.

Constraints: Project constraints actually define the limits of the project. For instance, project budget or the number of resources are constraints of the project. These will define the amount of work you can complete and schedule of the project as well.
Business need:

 The Business need is the reason for the project's existence. Therefore, when there is a conflict in stakeholder requirements, it will be a good idea to check the business need of the project. The requirement that most matches to the business need must be qualified when resolving the conflict.
Balancing stakeholder requirements and resolving competing requirements are two really important skills for a project manager because if prioritizing one requirement or resolving a requirement conflict will make any stakeholder unhappy, it might produce a risk to the project.