13

min. read
Prince2 Foundation and Practitioner certification are the essential ingredients for your project management success.  If you are planning for Prince2 certification, you definitely need a Prince2 study guide to reach your certification goal. In this post, let us explore what a Prince2 study guide is and why it is the key to your Prince2 Certification.
---
Attend our 100% Online & Self-Paced Free PRINCE2 Training.

---
What is Prince2 certification?
Prince2 certification is a renowned project management credential. Prince2 certification is a compulsory requirement in quite a few countries if you want to grow in project management career. Even though it is not mandatory, Prince2 Certification gives you an advantage over other project management professionals across the world. By studying the Prince2 Certification Requirements, you will get good perspective on what is essential to become a the Prince2 credential holder and how Prince2 Training and the Prince2 Study Guide will steer you towards your goal.
Prince2 stands for PRojects IN Controlled Environments. Let us delve deeper to understand what is controlled environment and why that is relevant for project management.
Prince2 has 2 levels of certification: Foundation and Practitioner: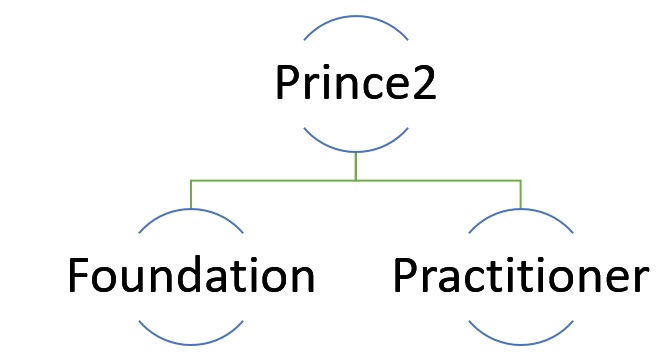 Prince2 Foundation:
What is Prince2 Foundation? Prince2 Foundation Training is an introductory or basic course. If you are Prince2 Foundation Level certified, you can expect to:
Have a grasp on the method to work effectively on projects executed under Prince2 method
Have knowledge of the basic methodology and terminology of Prince2
Check our Prince2 Foundation Training Video
Prince2 Practitioner:
Prince2 Practitioner Certification is for a senior manager, a Product manager, an analyst or similar other roles.  You can aim to gain additional knowledge when you enrolled in a Prince2 Practitioner Training. Following are the benefits of enrolling in a Prince2 Practitioner training:
You will be able to tailor the principles to suit your project needs
As a Practitioner, you will comprehend the way a team needs to be managed using the Prince2 Method
You will be able to showcase your expertise and the practical knowledge of delivering projects using the Prince2 Method
Therefore, whether you are aiming for Foundation or Practitioner certification, the best mentor is the Prince2 study guide.
Check our Prince2 Practitioner Training Video
What is the roadmap to Prince2 certification?
Any goal has to be realized with a well thought through Prince2 study guide and plan. A prince2 study guide helps you to have the road map for certification laid out. A typical roadmap which is generally part of the prince2 study guide will have the following steps:
Understand Prince2 certification requirements
Choose a Prince2 course
Choose a Prince2 study guide
Make a project plan for Prince2 certification using Prince2 study guide
Execute project plan for Prince2 certification using Prince2 study guide

1.      Understand Prince2 certification requirements: Prince2 Foundation & Practitioner
The first step towards your goal of Prince2 certification is to be aware of the Prince2 Certification Requirements which are as under:
Prince2 Foundation: Here are the prerequisites for the Prince2 Foundation level certification exam:

There are no specific certification requirements for the Foundation level certification. Since this is a basic course, Axelos does not specify any entry conditions. As long as you have the interest to learn the Prince2, using the Prince2 study guide, you can aim for the Prince2 Foundation Exam
Axelos suggests that it is desirable to have a basic knowledge on what a project is and how to manage projects while it is not compulsory. Therefore, even if you do not have the knowledge, Prince2 study guide will provide the needed inputs.

Practitioner: Here are the eligibility criteria for the Prince2 Practitioner Certification:
For you to appear for the Prince2 Practitioner Level Certification exam, you have to establish that you have passed one of these certifications:
Prince2 Foundation from Axelos
Project Management Professional (PMP) or Certified Associate in Project Management (CAPM) from the Project Management Institute, USA
IPMA Level A/B/C/D: International Project Management Association (IPMA) Level A/B/C/D corresponding to

Level A: Certified Projects Director, Level B: Certified Senior Project Manager, Level C: Certified Project Manager and Level D: Certified Project Management Associate
Since the Prince2 Practitioner is a higher level exam for seniors or those who have already cleared a basic level exam, the Prince2 certification requirements are little more stringent compared to the Foundation level exam. A good Prince2 Study guide will explain all these requirements and how to apply for both Foundation and Practitioner exam.
2.      Choose a Prince2 course
The next step on your roadmap is choosing a suitable Prince2 course. What are the options you have for Prince2 training? How do you know which is better? So, let us go deeper to get an insight into the Prince2 course:
Classroom and Prince2 course Online:
Typically, Prince2 course can be taken as a classroom session or as Prince2 course online. What are the pros and cons of these two options?
| | |
| --- | --- |
| Prince2 course online | Prince2 course classroom |
| At your pace– Time and pace is decided by you. You can do this as fast or as slow as you want. | Classroom session where you have to be at the pace of the class and instructor, difficult to pause or review if you are not clear on the concepts. While you can ask a few times, not everyone may have the same queries. Therefore, there are certain constraints on the time and pace in this session. You definitely need a very good PMP study guide to cope with this. |
| Accessibility: No restriction on the place or schedule for Prince2 course online. It is accessible from anywhere and at any time. | Course schedules are generally fixed. Your availability should match the fixed schedule. Since you pay in advance, cancelling, rescheduling is all challenging. |
| Avoid Commute: No need to travel on a weekend for the class. If your weekends do not match with the standard weekend, you can still take this class. And, not just over a weekend, whenever you find time and at your home or outside. | You are lucky if your Prine2 course venue is close to your home. Is it not tough to travel even on a weekend for a Prince2 training session? |
| Always on: The Prince2 course online is always available and therefore you can revise whichever concept you want. Added to this, you can revisit any lecture any number of times. Your Prince2 Study guide will help you plan your study and revision. | While some training providers give access to some online content, many classroom sessions are not packaged with this add-on. So, you will need to have a very robust Prince2 study guide to act as a reference. |
| Cost of Prince2 course Online is available from  ~200 USD upwards for the Foundation level | You may have to shell out ~1,100 USD if you are opting for a Prince2 classroom session |
How to choose Prince2 training?
Look for a Prince2 Training that complies with the latest version of Prince2 manual the 2017 version
The Prince2 course you will attend must provide you an in-depth knowledge of the 7 processes, principles and themes
Prince2 training should provide you practical industry examples and case studies
Check if you get exam preparation resources such as flash cards, cheat sheets, practice tests and case studies.
The most important part is the Prince2 study guide which is a bible for the Prince2 certification
Look for a Prince2 training providers who can give you a complete bundle of Foundation and Practitioner certification course.
Of course, the one key aspect for all of us is value for money. Check for a cost effective solution
Prince2 Certification Cost: What are the components of Prince2 certification cost?
Now that we want the Maximum ROI, let us see what goes into the Prince2 certification cost and the importance of Prince2 Study Guide
The following are the factors involved in the total cost for Prince2 certification:
Foundation/Practitioner Exam Fee
Training Fee
Sample Exam Papers Cost
Prince2 Study Guide
Membership Fee
| | |
| --- | --- |
| Component | Cost |
| Prince2 Foundation  exam cost (UK) | £ 300 |
| Prince2 Foundation  exam cost- Sample Papers | $75 |
| Prince2 Foundation  exam cost- Membership | $70 |

3.      Choose a Prince2 study guide
Prince2 Study Guide is like a beacon that guides you to sail through your Prince2 certification exam. Your success depends on the quality and comprehensiveness of the Prince2 study guide. What should go into the Prince2 study guide?
Components of a Prince2 Study Guide
Concepts of the Prince2 Framework- 7 Principles, Themes, Processes: Here is a summary of what the Prince2 Study should encompass at the minimum:
Detailed discussion on each of the processes, principles and Themes is needed to sail through the exam effortlessly.
| | | |
| --- | --- | --- |
| Processes | Principles | Themes |
| Starting up a project | Business Justification | Business case |
| Initialization of a project | Roles and responsibilities | Organization |
| Direction of a Project | Learn from experience | Quality |
| Controlling a stage | Manage by exceptions | Risks |
| Management of product delivery | Manage by stages | Plan |
| Management of stage boundaries | Tailor to suit the environment | Change |
| Closure of a Project | Focus on product | Progress |
Case studies: You need to have practical applications of the 7 principles, processes, and themes. Therefore, case studies where these are showcased will help you to understand the concept better. Moreover, you would be tested in the Prince2 certification exam on both theory and practice. So, if you have a good Prince2 study guide, the case studies given there will be a real ammunition for you.
Practice tests: One more important aspect your Prince2 study guide should have is practice tests and quiz at the end of each unit. These are like stage gates that tell you how your preparation is. By writing the practice tests, you can assess your progress and performance.
Quiz: At the end of every chapter/topic, self-assessment is needed. This is will help you fine tune your Prince2 preparation quickly.
Handy hints, tips & tricks for the Prince2 exam: Your Prince2 Study Guide should have the essence of hundreds of participant's and the instructor's experience infused. The Prince2 Study Guide is essentially the cream you get after churning the milk which you can enjoy.
Flash cards & Mind maps: These are again the useful resources that should be part of your Prince2 Study Guide. These are helpful to check if you got your concepts right.
Exercises: Questions that test your knowledge, application of concepts and challenge you are very important to gear you up for the exam
4.      Make a project plan for Prince2 certification using Prince2 study guide
Understand the scope of work for Prince2 Foundation & Practitioner exam: This helps you know the quantum of work for the exam. Let us examine the syllabus that tells you what you are expected to know for the exam:

| | |
| --- | --- |
| Learning Outcome for Foundation | Learning Outcome for Practitioner |
| Basic concepts of projects and Prince2 | Understanding how the principles of Prince2 are applied to projects |
| How the principles of Prince2 help the implementation of Prince 2 method | The various themes in Prince2 and how to customize and use it for various circumstances of project environment |
| The themes underlying the Prince2 and how they help in managing projects | The final outcome measures your knowledge of the processes in Prince2 for various environments. |
| Know about the various processes in Prince2 and how they are implemented in projects | |
For this scope of work, estimate the time needed.
Estimate time for the Prince2 Foundation & Practitioner exam: When you are estimating and preparing the schedule, plan for revising the material in the Prince2 Study Guide at least once.

Check if you have factored the time needed for reviewing the Prince2 Manual 2017.
Define the total number of hours needed for preparation. This should include exams, emergency, family time, risks, etc.

Understand Risks and prepare a plan to address them: One of the most daunting tasks would be to sit for an exam if you have lost touch of it for quite some time. Address this risk by practicing well.

Have a contingency plan for the dedicated number of hours you need for studying the Prince2 Study Guide
You could run into unforeseen issues at work wherein your schedule may get affected.
Take care of the initial learning curve since the subject is not all that interesting, at least in the beginning. You will definitely ease in later
Prince2 Practitioner is definitely tougher and you need to give your undivided attention to it
It is good to take both the exams in succession. This way, the Foundation content is still fresh in your mind and hence easier to leverage it for the Practitioner. Moreover, you are still in the exam preparation mode which will keep you going. You will not need another learning curve!
Depending on the time you can allocate for study, choose a 4-6 week plan for the Prince2 exams.
Prince2 Foundation & Practitioner exams:
Here is a summary of the exam pattern, duration, etc. as a ready reckoner for you:
Prince2 Foundation Exam:

Prince2 Practitioner Exam:

| | |
| --- | --- |
| Foundation | |
| How much time are you allowed? |   1 hour |
| How many questions will the exam have? | 60 |
| How much should you score to Pass? | 55 (you need a minimum of 33 questions to be correct out of the 60 questions given in the exam) |
| Are the questions essay type, filling the blanks or Multiple Choice Questions? | Multiple Choice Questions. No negative marking |
| Is there a basic Reference Book that can be used to prepare for the exam? | Managing Successful Projects with PRINCE2 publication, 2017 edition is the reference for the Prince2 Foundation & Practitioner Certification. |
| Practitioner | |
| What type of Questions will be asked? | Objective testing |
| How many questions will be in the exam? | 68 questions |
| How much should you score to pass? |  55%, which means you need to get 38 marks at a the exam minimum out of 80 available to pass |
| What is the duration of the exam? | 2.5 hours (150 minutes) |
| How is it different from the Foundation Exam? | Practitioner exam is an Open book exam (You are allowed to refer to the official PRINCE2 manual only) |
5.      Execute project plan for Prince2 certification using Prince2 study guide
Start studying: You start implementing the plan in Prince2 Study Guide after tailoring it for your specific needs. You are already applying Prince2 methodology here: customizing for your project environment.
Take practice tests: Attempting practice tests or sample tests will help you assess how close you are to taking the actual Prince2 certification exam.
Use the feedback mechanism to correct your preparation: Feed the results of the practice tests to strengthen the preparation. Revise those topics that you are scoring less.
Take test, become a Prince2 Foundation certified professional. Now, repeat the process for Prince2 Practitioner certification but with more rigor.
While Practitioner is an open book, don't be complacent. You need to put more focus on the Prince2 Study Guide and the Prince2 Manual. You are allowed to take the manual to the exam and not the Prince2 Study Guide though.
While Prince2 certification is not a cake walk, especially the Practitioner, it is not an impossible task either. This is where the Prince2 study will come handy in making the preparation easier and focused. Prince2 study guide with its plan and direction along with the tips and tricks will make the process simpler for you. Therefore, go ahead and get yourself a Prince2 course that offers a comprehensive Prince2 Study Guide to crack the exam in one shot.
You can enroll in our FREE Prince2 Courses to learn more about Prince2 Certification.


Sunanda Gundavajhala, B.Tech, M.B.A, PMP has over 25 years of project management. She is a consultant, trainer on project management for different sectors and is the recipient of "Recognition of Excellence" award from PMI, USA and Woman Volunteer award from Hyderabad, India Chapter of PMI. Sunanda has contributed to the "Practice Standard on Scheduling, PMI". She has worked as the Liaison officer for PMIEF (Education Foundation) for the Hyderabad, India Chapter of PMI.
Prince2 Study Guide
Review by: Adrian Chambers
5 / 5 stars