11

min. read
Are you looking for the PMP jobs you can avail yourself of with the PMP certification? Or are you searching for the skill-set and job options that PMP can bring to your career growth path? Then you are reading the right post. As in this post, we aim to provide you with an overview of the PMP jobs. While reading this post you will get the idea of added advantage Project Management Professional PMP  certification holds in the job market. Also, we will give you an overview of the market situation and futuristic with respect to the project management roles and job opportunities.
---
Attend our 100% Online & Self-Paced One-Hour Free PMP Training.


---
Project Management Jobs
There are several roles that comprise the project teams. These project teams work together under the hem of the project manager to successfully accomplish the project objectives. These objectives are in line with the organizational objectives and hence drive the business. Therefore it is very important for the leadership and top management to build a team as a recipe for success.
In order to have this project team, companies prefer to engage in various roles that work together based on their job requirements. This also means that these team roles have clearly defined job descriptions and these job descriptions are also aligned with the project requirements. Therefore this is necessary that the project team has a good understanding of the project so that they can fulfill their job requirements in an aligned and effective manner. So it is not only the project manager role that should focus on PMP certification. Other project team roles must also focus on the PMP skill set. For instance, if your role requires to know project planning and if you lack this PMP skill set, then, you should consider attending Microsoft Project training.

Even for the sake of the PMP Exam application, it is not mandatory for the candidate to have a project management role. Rather, the candidate may have professional experience of three years along with a graduate degree. Most interestingly, candidates need to have experience of working in the project management process areas in any role: Initiating, Planning, Executing, Monitoring and Evaluating, and Closing. Hence the candidate is eligible for PMP Exam if they are working in any of the relevant roles contributing to the project. This is one of the reasons that PMP aspirants prepare themselves to obtain certification and suit themselves for the project manager role.

Project Management and Team Roles
Generally, teams have a variety of roles which can vary from project to project. Some of these roles include but are subject to the variation:
Project managers
Associate/Asst. Manager – Projects
Team leads/Managers
Project Executives/Engineers
Software Developers
Technical Project Managers
Project Delivery Manager
Business Analyst
These roles may have a different proportion of the required skill set with respect to their contribution to the project process area. For example, software developers are mostly working on project execution activities like software development. Whereas project managers look at the overall progress of the development activities and resolve any collaboration requirements among the stakeholders to ensure delivery. But both of these roles contribute to the project execution.
Likewise, the Assistant Project Manager will be assisting the project manager in various tasks like scheduling and collaboration. But with less authority and responsibility as compared to that of Project Manager. The team leads will be more towards managing their team members and their assignments. So every role is contributing to the project in its own capacity.
---
After helping over 125,000 professionals in more than 180 countries with a 99.6% first attempt pass rate, we have prepared a seven-step PMP study plan. Read this PMP study plan and create your own PMP Certification plan accordingly.
---
PMP Certification Jobs and Skill Set requirement
In this section, we give an overview of the skill set required by the project management and affiliated roles. According to an article in CIO, high-performance projects require a certain set of skills to effectively execute projects. The required skill set includes:
Technical project management skills
Leadership abilities
Strategic and business management mindset
Change management and organizational development expertise
Top-notch communication skills
Team building and conflict resolution capabilities
Adaptable and unflappable qualities
Exceptional facilitation skills
Since effectively executing projects has become more complicated, therefore, it makes sense that project managers who possess these skills, along with project management training (e.g. Microsoft Project Course) and experience, will become highly in demand.
Generally, employers and recruiters look for project managers with this skill set. As a project management professional, you have already demonstrated these skills and therefore this places your profile on top of the list of the recruiters during the project manager interview, screening, and short-listing.
According to the surveys, there will be 700,000 new project management jobs in the United States. This gives a heads-up to polish your skills and showcase to grab the opportunities with your PMP certification. Here are some of the key skills and PMBOK knowledge areas covered in the PMP certification exam. Project Management Professionals can:
Lead and direct cross-functional teams to successfully deliver complex projects.
Complete projects within the constraints of schedule, budget, and scope.
Understand advanced project management concepts and processes.
Apply PM methodologies and best practices to complete projects.
Adhere to the code of ethics and professional conduct.
Jobs for PMP Certification Holders
Since Project Management Professional (PMP) certification demonstrates the knowledge and experience in project management to bring business and IT projects to successful completion, therefore, it is globally accepted that PMP-certified project managers have the project management and managerial skills to complete projects on time, within the scope and budget.
The market is very much aware of the positioning of PMI project management certifications and PMI is best known for its Project Management Professional (PMP) credential and the Project Management Body of Knowledge (PMBOK). PMBOK is a collection of best practices and standards for project management.
Having more than 470,000 members in 207 countries, the Project Management Institute PMI is the world's largest project management association and has certified more than 740,000 PMPs globally. This is the mere fact to understand the importance of PMP and the indicator of PMP certified professional induction trend in the market.
We have listed some sample jobs posted by various companies on LinkedIn to hire project managers and alike roles. You can see in these examples that the PMP certification is one of the specified requirements which gives an added value while the recruitment process.

PMP Certification Jobs Sample #1
While there are no specific "PMP certification Jobs", you will see that most of the project management jobs require PMP certification. That is why sometimes project managers look for PMP certification jobs. For instance, there is an available project management job in the San Francisco Area. The details of a project manager vacancy from NVIDIA are also listed.

For the ones who do not know NVIDIA, they are an American Fortune 500 technology company incorporated in Delaware and based in Santa Clara, California. NVIDIA designs graphics processing units (GPUs) for the gaming and professional markets (source: Wikipedia). See below the project management job description of NVIDIA.
While they mention several project management skills, the company seeks PMP certification as a "must to have" in the applicants applying for this position. This is just an example of the several PMP certification jobs that are available in the market.
PMP Certification Job Sample #2
Here is another example of an Integration project specialist from West Corporation.

The focus is on the relevant experience with the primary preferred qualification of in-depth understanding of project management methodologies highlighting the PMP methodologies.
PMP Certification Job Sample #3
In this example, we have specifically picked a job posting for a Business Analyst role in 7-Eleven in Plano, Texas.

This is a single vacancy with multiple hats, in the job requirements, PMP certification is marked with a plus in the criteria.
PMP Jobs and Recognition of PMP within organizations
Your resume gets more eye-catching and is hence selected as part of the displayed profiles of the organization. You are ranked higher to be picked up for projects that are more challenging and rewarding. This also motivates you to be an efficient and effective part of the management team.

The PMP credentials are not the hot cake only for the technology departments, but also the other departments are aware of this fact. The Business Development department understands that certification is the golden key to opening opportunities at the very first level. The Human Resource department also recognizes the importance of this fact. They are the ones who set the job requirements in collaboration with the technology department.
The training and development department also realizes the value of PMP training and Certifications. PMP training courses are sponsored by the organizations to advance the skills of the existing personnel. Some of the companies arrange their in-house PMP training either by the existing PMP employee or through outsourced training workshops.
The recent decades have gone through organizational structures trending from Functional to Projectized organizations. This trend has flourished many new players across the globe in addition to the big market players and there are more consulting organizations on the map. These consulting organizations do not target functional or day-to-day tasks. These are working on the more challenging nature of business services for the clientele.

PMP Certification Jobs and Global Market
The internet and the digital era have not only given birth to new ventures but also expanded the horizon of the job market. The players who have enhanced and marked their global footing have increased their market share. This fact has been a great motivator for organizations to keep abreast with new trends and technologies.
Companies are working continuously to improvise the skills of their employees and train them to meet global requirements. By virtue of this competitive market, these companies train and certify their employees. And also the hiring requirements are being focused to get the best out of the market who is already skilled and has proven records. These criteria also impose the need for certified professionals and so is the case with Project Management Professionals (PMP). If you view the job postings for project management or senior project management, you will see the value of the certified professionals and PMPs.
PMP credential is a dire need of these market players. They look forward to hiring talent with displayable skills. Therefore your PMP certification is a value-adding tool to showcase your ability to become a prominent member of this globally challenging market.
Even the implementing organizations consider credentials like PMP certification while setting out criteria for vendor selection. Management and project management capabilities are also assessed while evaluating the best vendor. These criteria are helpful to assess the expertise and sustainability of the consulting organization.
PMP Certification Jobs and Salaries
PMI's Project Management Salary Survey report, the 10th edition, provides comprehensive insights from 33,000 respondents in 37 countries.
(Ref: https://www.pmi.org/-/media/pmi/documents/public/pdf/learning/salary-survey-10th-edition.pdf)
According to this report, having a PMP Certification appears to offer an advantage in terms of median PMP salary; however, the percentage increase in salary varies extensively by country. Overall, the average salary among the respondents from the U.S. was $112,000 with an average total compensation of $120,000. The average earning among respondents with the PMP certification in the U.S. was 25% higher than the average salary of those without the certification ($115,000 versus $92,000).
You can see why now is the time for you to build project management skills, as demand for these skills outstrips supply.
PMP Certification Jobs Future Trends and Talent Gap
There are certain evidences and estimations that a wide gap exists in the demand and availability of project management skills. This gap keeps on growing with time. The organizations are in demand of project management resources and this demand outnumbers the existing number of qualified project managers.
According to the Talent Gap Report by PMI, there are several factors that contribute to this gap. The first one is the dramatic increase in the number of jobs requiring project-oriented skills. Others are the attrition rates, including professionals retiring from the workforce. Furthermore, there is a rise in demand for project talent, especially in rapidly developing economies
Furthermore, the global economy has become more project-oriented. This results in a wider range of roles and more job openings pertinent to the project management discipline. PMI published a PMP talent gap report based on the job opening analysis conducted in leading sectors. According to this report, employers will need to fill nearly 2.2 MILLION new project-oriented roles each year through 2027 on an annualized basis.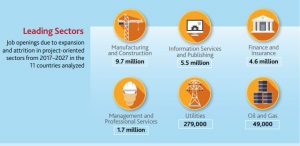 PMP Job Summary
In this article, we give you an overview of the PMP Certification Jobs. We also provided sample PMP job requirements. These sample PMP jobs give the idea that recruiters and hiring organizations give an added advantage to the PMP certification.
Furthermore, the skills required to grab the new PMP jobs were shared. In addition to this, the job trends and the talent gaps along with the salary surveys are shared with you to assess the importance and need of the PMP certification. We hope you enjoyed the article and find it helpful to make up your mind to pursue the PMP certification.
PMP Jobs
Review by: Samuel Murray
5 / 5 stars