5

min. read
You are about to complete a long undergrad or college study. The next step has two options; following an academic career with masters or Ph.D. degree or finding a job. If you are one of those who are choosing the most popular newly graduate career options, you will look for a job and start your career right after you get your diploma.
Before applying for different job alternatives in the market, be careful to select the industry you will start working. It is easy to switch careers between industries in the early stages of your career, however, it will be tough to switch after you gained significant experience in a specific industry. I would not say the changing industry is impossible, but not reasonable. Consider a project manager working in the construction industry for 15 years. How likely can he find a good job in the automotive industry? He can find, but the 15 years of construction industry experience will not be valuable for the automotive industry, this will affect his salary and compensations.

After 15+ years of experience in the industry and having several roles, I would recommend you something that no one told me when I was starting off my career: Earn a PM certification, get a project management job which is interdisciplinary and have an advantage of getting managerial positions.
I would be glad if one of my friends or one of the alumni could tell me this when I was 22. I am not regretful because somehow I found the right direction in my career after a few years. However, when I see my friends who are going to work every day that they do not like at all, I am thankful to God that I found the right direction. I will not tell my full story, you can read it here. I will tell you what you should do as a new graduate to start a shining career.
Get a Project Management Job
There are several reasons why I recommend you to get a PM job. I will list the top 3 reasons here.
Project Management jobs offer better Salary
Project Management roles are in demand, By 2027, employers will need 87.7 million individuals working in project management-oriented roles. (source: PMI Job Growth and Talent Gap Report)
Project Management is interdisciplinary, which means you can change your industry easier
Let's go over each point one-by-one.
1- Project Management Jobs offer better Salary
Project Management roles take more responsibility, make decisions and affect the future of the project and organizations respectively. Therefore, salary and compensation packages of the project management roles are better than non-project management roles. The following picture shows the average wages of project management and non-project management-oriented occupations in the US from 2004 to 2017.


As you can see, project management jobs pay an 82% premium compared to non-project management jobs. 
2- Project Management roles are in demand
Based on Project Management Job Growth and Talent Gap Report, by 2027, employers will need 87.7 million individuals working in project management-oriented roles. Anderson Economic Group (AEG) and PMI analyzed project-oriented employment opportunities in 11 countries on five continents that represent developed and/or growing economic powers. Project-related job growth is expected to be 33 percent collectively. The following figure shows the need for skilled PM roles in countries from 2017 to 2027.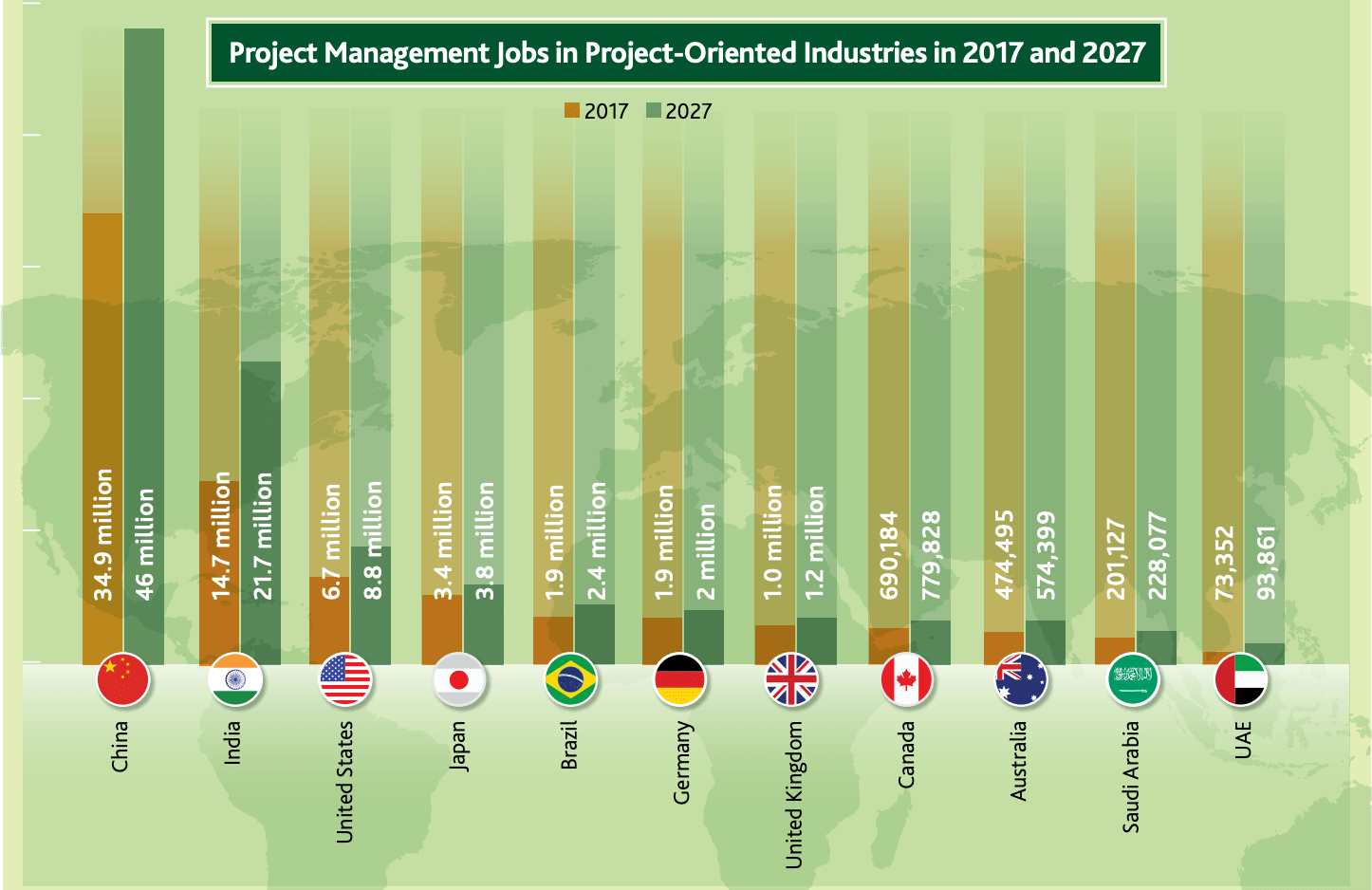 As you can see, there will be a huge increase in the demand of skilled project management roles in all countries. Particularly, in the US, the need will increase from 6.7 million to 8.8 million which makes a 31% increase.
3- Project Management is Interdisciplinary
It is better to describe what "interdisciplinary" means. Interdisciplinary means involving two or more different subjects or areas of knowledge. No matter which industry you will be working for, project management will be vital. Project management is about budget, schedule, quality and resources management. Therefore, in every organization, project management is crucial for the organizations' success. 
So, even if you start your career in an industry that you will not like to proceed in the future, you can switch to a different industry. Since you will gain interdisciplinary project management skills, wherever you go, your project management skills will bring value to the new organization you will be joining. The following figure shows the leading sectors where there will be a huge demand for skilled project management roles in the following years.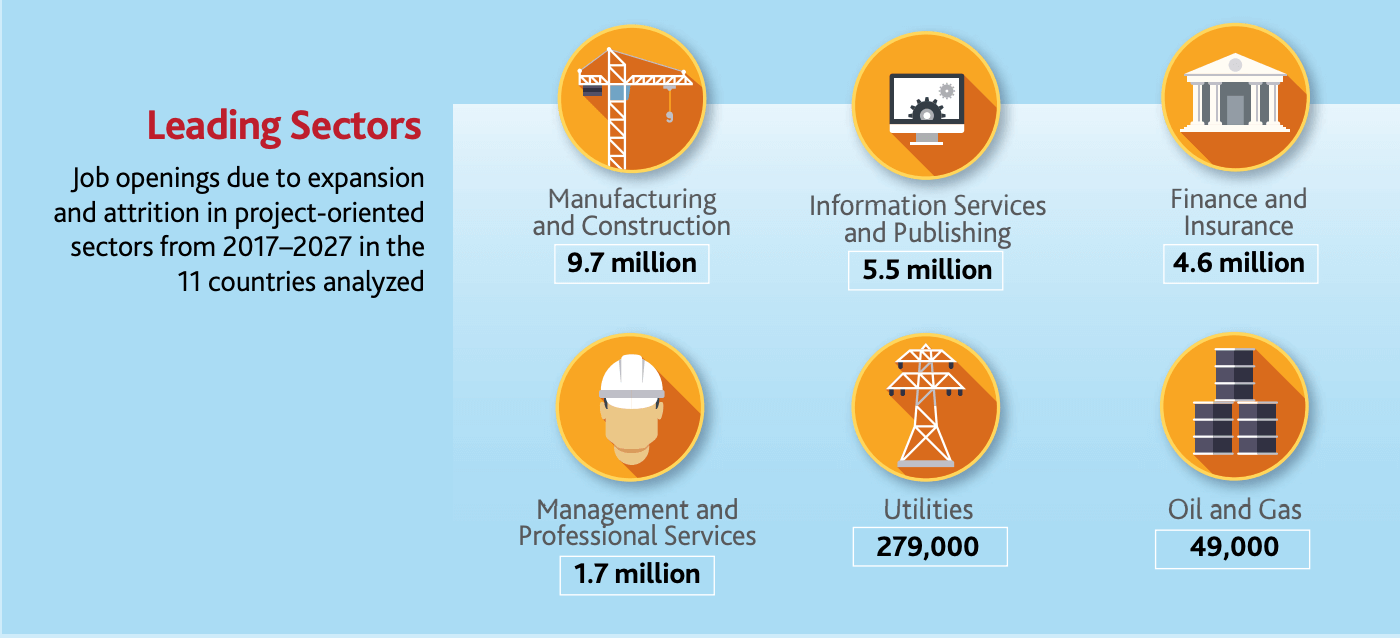 Attrition, particularly as seasoned practitioners reach retirement age, is creating many project-related job openings. In the United States, in manufacturing, attrition will cause nearly all open positions—97 percent—while in management and professional services just over half the openings—52 percent—will occur for the same reason.
In short, starting your career in an area that will be more and more demanded in the upcoming years will make your experience valuable, pay you a premium and bring brilliant career opportunities.
How can I get a Project Management Job as a New Graduate?
As a new graduate, employers will not look for significant work experience in your records, however, you should differentiate your resume from the herd applying for the job openings right? At this stage, I strongly recommend you to get a Project Management certificate, which will ease you to get a project management role as a new graduate.
PMI has an entry-level project management certification, Certified Associate in Project Management (CAPM®). The requirement is having a secondary diploma (high school diploma or global equivalent) and attending a 23 contact hours project management training. As a new graduate, you satisfy the first condition. You can earn 23 contact hours by attending our CAPM training – 90% OFF. You will have lifetime access to our CAPM training and you will be able to revisit lectures as many times as you wish. The list price of the training is $570, for a limited time, it is only for $57.
Our 90% lifetime access offer for the CAPM certification training is expiring in…

Enroll now, and take a step ahead in a rewarding career.

---


Resit Gulec, MBA, PMP®
Founder & CEO
Master of Project Academy